3D printing technology 'is future of sustainable supply'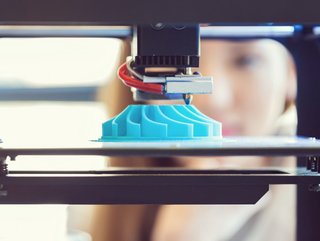 3D printing - or additive manufacturing (AM) - can shorten supply chains, cut waste and help with Scope 3 emissions, says 3D printing expert
Sean Hassett, CSCO, WAZP
Sean Hassett is Chief Supply Chain Officer and Director of WAZP, a global supply chain company built around 3D printing.
What does WAZP do?
WAZP offers companies the opportunity to have an advanced, sustainable and flexible supply chain. We help them transform digital content into physical products using additive manufacturing (AM) technology, otherwise known as 3D printing.
Why is 3D printing key to supply chain?
Unlike legacy manufacturing, WAZP inspires companies to make better products, closer to the point of need. Having geographically dispersed and strategically placed manufacturing facilities enables on-demand production, which means great supply chain responsiveness and agility. It also means that the most valuable form of the product is digital, rather than being physical stock.
At our headquarters and centre of excellence facility in Ireland, we perform all of the design, development, testing, and full product and process specifications. We then send the product file and specifications digitally to the 3D printers that are as close as possible to the customer's point of need, to be manufactured.
How quickly is 3D printing tech advancing?
The technology was first developed in the 1980s but it's seen real growth in the past 15 years. We are seeing a lot of emerging players in the development of 3D printers, and there has also been significant development in 3D printing materials and post-processing technology.
Is AM too slow for mass manufacturing?
I don't see speed as being a limiting factor. Recent advancements in 3D printing tech means it's now starting to be recognised as an effective way to manufacture products and components at scale, just like we're doing at WAZP.
What might be classed as a limiting factor is a lack of knowledge about 3D printing in many of the companies we engage with. There is a general lack of understanding of its potential for any business. Fear of change is another limiting factor, although companies are beginning to recognize that change is necessary. We are helping businesses make the transition to 3D printing on a global scale.
How can AM help with sustainability?
Increasingly, companies of all sizes are recognising the importance of sustainability, because their customers are demanding this from their products and services. 3D printing is already playing a big part in helping make companies more sustainable.
Legacy manufacturing is highly wasteful. You start with a block of material,and then it's a subtractive process: you remove material until you achieve the desired form of the product or component, and then discard the unwanted material.
With AM you add material, layer by layer, until you have the desired form - basically 'growing' the product, or parts. You only ever use the material you need and there is little to no-waste.
The technology has allowed WAZP to develop a distributed manufacturing footprint with a network of manufacturing partners around the world. This means we offer nearshore production for clients where products and components are produced close to the point of need.
This reduces the carbon emissions of land, sea and air freight, and also reduces the number of steps in the supply chain. For example, by introducing 3D printing into an eyewear customer's operations we helped reduce their end-to-end value chain from 40 vendors to just five. This has had a considerable impact on their Scope 3 emissions, and has eliminated material wastage.
You only ever produce what you need, when you need it and as close as possible to where it is needed.
Another way 3D printing is sustainable is that the techn offers a supply-to-demand ratio of 1:1 at volume. This means you only ever manufacture what has been demanded. For example, IKEA is customer of ours. If an IKEA customer orders a product online, IKEA gets paid, and only then is the product manufactured. We can do this at volume. This eliminates both under-production and also over-production - which can result in warehouses full of unused stock that ends up in landfills. This is not only very costly to businesses, but also damaging to the environment.
In short, companies like ours can offer businesses a digital supply chain that insulates them from major global events, and that is also sustainable.
What kind of things does WAZP make?
We design, manufacture, and fulfil consumer products across many sectors: engineering, sports, lifestyle, computer and gaming, eyewear, homeware, military, and more. We work with companies such as Borgwarner, Tricel, Hexagro, and IKEA, to name but a few.
Where will 3D printing be in a decade?
I believe 3D printing will have a major position in the supply chains of the future, and a positive impact for sustainability. This will come about through organisations thinking strategically on how they can improve their supply chains, reduce waste, and their impact on the environment.