Supply Chain Risk Management
2023 predictions for logistics, supply chain & procurement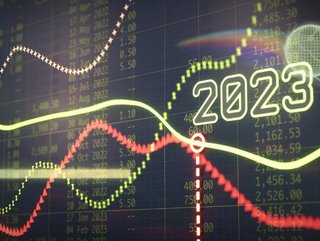 Execs from Danone, Proxima, FourKites, Endava & Globality share their 2023 predictions for supply chain, logistics, procurement & digital transformation
2023 predictions Part Two: Here, executives in supply chain, procurement and logistics share their predictions for these functions across different industries and sectors. These follow 2023 supply chain predictions Part One.
Supply chain predictions 2023: Procurement
Jean-Yves Krummenacher, Senior VP, Cycles & Procurement, at multinational food company, Danone.
There will be continued volatility on foreign exchange, tariffs, level of stocks and upstream operating rates.
This will trigger different behaviours between markets in different parts of the world. For example, the evolution of sea freight rates from Europe to Asia, against those from Europe to North America. This means that competition between supply chains will remain very strong, and the flexibility of sourcing and data leverage will remain an important competitive advantage.
We have already seen a tightening of regulations, especially in Europe, on sustainability and human rights. We expect there will be increased focus on managing the recurring costs of transformation to comply with these regulations.
Finally, finding new ways to harness insights and analytics will continue to make the difference on efficiency, as well as demand forecasting.
Keith Hausmann is Chief Revenue Officer at Globality, an indirect spend management platform
The job market remains tight as a drum, and chief procurement officers (CPOs) will face a war for procurement talent and expertise. Maximising value from indirect spend requires a level of market knowledge that will be at a premium, meaning companies may need to contract for this expertise.
CPOs will come to see that one solution to filling vacancies in the indirect procurement space is complementing humans with machine learning, and by crowdsourcing competences and knowledge which have become scarce internally.
Overall, expect to see the CPO become critically important to corporate profitability. CPOs will be the central, accountable point in collaborating across the C-suite, as the executives who can define strategic vision, the IT roadmap and how expenditure can be more strategic from both a supplier cost and value perspective.
Supply chain predictions 2023: Logistics
Glenn Koepke is General Manager of Network Collaboration at supply chain visibility specialist, FourKites.
On-time performance will become a focal point in 2023 over cost and capacity, which has dominated the headlines the past two years.
With softer prices and more available capacity likely to stay through 2023, on-time pick-up and delivery will be critical.
In the logistic service provider world, this means service will be top of the priority list.
Technology spending, meanwhile, will decrease and there will be a lot more pressure on delivering what was promised.
Finally, we will see a consolidation in service providers across trucking and freight forwarding. Understanding risk and who they are partnered with will be critical for shippers. For LSP's, consolidation, M&A, differentiation, and customer retention will be key to achieving their financial targets.
Spencer Shute is Principal Consultant at Proxima, the procurement and supply chain consultancy
The biggest focus for logistics companies in 2023 will be driving efficiencies to reduce output costs as demand continues to decline.
There will be a significant amount of revenue chasing because of the global economic output as clients seek to drive down costs.
Next year will also see a lot of automation. However, long lead times due to availability and initial start-up costs will likely slow down the implementation of these new technologies.
The biggest pressures facing logistics companies in 2023 will be caused by recession, inflation, labour shortages and fuel prices.
As interest rates continue to increase, we might see pressure on capital expenditure in the logistics market.
A drop in spending is likely, as the cost of borrowing increases. However, ceasing to invest in such projects could have detrimental effects, as expenditure and labour shortages will continue to plague the industry, and competitors who do invest will get a head start on their automation processes.
Overall, it will be a complicated market moving forward, and supply and logistics will have to continue to adapt to challenging circumstances.
Supply chain predictions 2023: Technology
Michael Unruh is Business Development Manager at Endava, a software development specialist
As workforce shortages show no sign of easing, the industry will see an uptick in leveraging automation and data lineage to combat the labour gap and to build a reliable supply chain.
With this progression, material-flow management will transform, as more companies adopt autonomous mobile robots (AMRs) that can adapt to changes in the warehouse environment and shifting process patterns.
We're also likely to see organisations home-in on efforts to build flexible, dynamic operations. One area is likely to be a focus on real-time data processing and analytics capabilities in warehousing. Supply chain operational strategies will propel organisations' digitisation ambitions forwards.
Supply chain predictions 2023: Sustainability
Karl Kapustka is Senior Business Development Manager of Supply Chain and Logistics at a software development specialist, Endava.
Sustainable logistics is set to be a priority for organisations not only from an environmental perspective, but also in a bid to fuel improved economic sustainability.
Technology and data lineage will take the centre stage of these initiatives, driving greener, more productive warehousing by digitalising paper processes (such as paperless dock systems), as well as promoting more effective reuse of materials-handling equipment.
Plus, as the transition to a circular economy becomes increasingly important, reverse flows will be set up to collect packaging, used products and parts, as well as to improve the returns process.