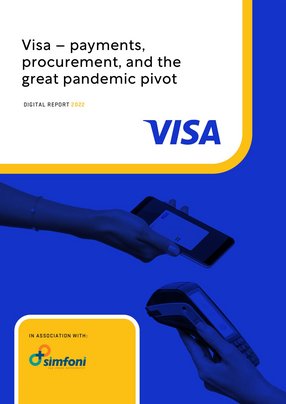 VISA – payments, procurement, and the great pandemic pivot
Mano Manikkam, Senior Director, Head of Global Sourcing – APAC at VISA on the payment giant's digital transformation and procurement pivot
Few functions have received more recognition in global organisations since 2020 than procurement. Alongside IT, procurement professionals have weathered the many storms produced by the pandemic and steered companies to safe harbours. More than one leading executive has said that procurement has cemented its position and proven its importance, while making CPOs the "rock stars" of the C-suite.
Mano Manikkam is far too humble to describe himself in such terms. Like so many procurement leaders, he seems more comfortable quietly getting on with his job, ensuring that the function stays in the shadows for all the right reasons.
On a visit to the UK from his base in Singapore, the Senior Director of Global Sourcing, Asia Pacific, Visa, takes time from his busy schedule to visit BizClik's HQ in Norwich. This is worth mentioning as it speaks volumes about his modus operandi – he is on leave yet still makes the time to share the Visa success story as they navigated the procurement challenges of the COVID-19 pandemic, accelerated their digital transformation and all the while keeping a close eye on their suppliers and key partners.
He beams a warm smile as he reaches for his smartphone and shares photos of his recent visit to Anfield, home of his beloved Liverpool Football Club – football being a universal, global language and reference. Equally ubiquitous is Visa, or as their latest strapline puts it, "everywhere you want to be".
The payments giant has faced unprecedented change, as the world transitioned to more digital payments, while also having to manage its own reaction to remote working, supply chain disruption and global shortages. All in a day's work for a procurement leader?
"Over the 20-plus years of my career, I've seen procurement change vastly from initially just being a processing function for most companies," says Manikkam. "Now more of what we see in the industry is procurement functions being closer to the business, and even to the clients, to drive better business value to reach business goals."
Manikkam's scope covers the whole spectrum of procurement in 22 markets in Asia Pacific across all spend categories, working with diverse suppliers at a localised level.
Manikkam's career started as a consultant and he worked his way towards middle management in consulting and then switched over to the corporate world on the client side. That has seen him work across multiple regions – in the US, in Europe and also in Asia – and in global companies across multiple industries and sectors.
It has been a solid career path, with foundations formed while performing military National Service duties in Singapore.
"I spent three years in the Singapore army as a commissioned army officer within the Ist Commando Battalion," he recalls. "It taught me a lot of things, especially leadership skills, self-discipline and development in my mental and physical endurance. I was put in situations where I had to react quickly, thinking out of the box and also overcoming challenges to deliver outcomes. So now when I'm in the corporate world and face similar challenges – people challenges, organisational and transformational challenges, operational challenges – what I have gained from those learnings has been very helpful for me."
On the subject of Singapore, a renowned hub for trade and financial services seen as the gateway to Asia for many Global and Western organisations, how important is it in a digital world to have a physical presence in market? As more organisations transition to remote and digital, does location even matter anymore or has that concept become redundant?
Manikkam admits that we live in a digital, borderless world today, but believes certain businesses cannot be successful unless they are localised.
"Location is absolutely still important for physical impact on specific markets and industries, especially in a region like Asia Pacific," he says. "It's a multicultural environment with fragmentation of rich culture and traditions and how business is done in those markets is unique compared to other regions. So companies with ambitions to grow in the region have to be present rather than work virtually."
Creating a Digital roadmap for Sourcing success
Mannikam says that Visa has a road map for digital transformation that is part of their continuous improvement to benchmark themselves against the industry and where they should be heading.
The pandemic came along and, in an unexpected way, actually supported Visa's transformation, as it did with many companies that were prepared for the move towards digitalisation of their operations. Manikkam says the pandemic "almost enhanced the necessity of why we should be transforming digitally".
Most communities transformed digitally in the last two years, certainly when it came to making payments. Visa already had multiple payment flows and the shift to more focus on digital and contactless was already part of the digitalisation of the payments industry. The pandemic actually encouraged Visa to drive its third-party supplier partnerships to enhance growth in digitalisation and digital payments.
But what about when it comes to procurement? How is that impacted by this digital roadmap?
"We are looking at it right from the ground up – from the baseline P2P platform that will allow us to build on other modules beyond that," says Manikkam.
"We're not just stopping with the initial requirements coming from the business but also handling category management activities on that platform, contractual authoring, and also review – all the way up to payments and settlement. That will be the foundation and eventually, it will grow to look at Supplier Risk review, Supplier Relationship Management, and Supplier Performance Management and possibly Supplier diversity too.
"We've tried to look at it from an end-to-end process improvement standpoint, as an opportunity to bring it all together."
Importance of partnerships
We discuss the topic that refuses to go away – the pandemic – and the inevitable digital transformation that it obviously accelerated. Manikkam, like so many forward-thinking global executives, acknowledges that the terrible virus has also delivered some positive change. Not least, it has galvanised relationships with key partners.
"We work with a lot of key partners within our digital transformation initiatives," he says. "The partners we work with are absolutely key because they provide us with a lot of knowledge, intelligence and more industry-standard ways of working and benchmarking ourselves to delivery our transformation goals successfully.
"Digital transformation is not just a one-time initiative – it is a long-term investment and it should be a way to build and grow the operations forward rather than a plug-the-gap kind of solution.
"In our procurement function, we focus on the partnership with third-party providers and vendors and they are the ones that provide the critical services that allow us to deliver value to our clients so we have to ensure that we select the right partners, we create the right relationship, capture the right delivery and commercial mechanisms and contractual structure so that they can deliver great value for Visa's clients."
The changes forced by the pandemic are not just limited to an increased reliance on digital solutions or new processes – there was also a significant shift in business attitude and behaviour towards the procurement function.
Manikkam says procurement has traditionally been perceived in different ways by different companies but procurement is the "main artery to the financial spine of every company".
"From being viewed as just processing backend operations, the procurement function is now elevated closer to the business, and they look at us as trusted advisers and enablers of driving the business forward rather than being a roadblock.
"That's a cultural change which a lot of companies struggled with. So when you're leading a procurement function you've got to also factor that in to ensure that it is a cultural change. It is not just about changing the procurement function, but also changing the behaviour of the entire company to accept that change."
It has been a turbulent time for Visa, as it has for all global organisations, coping with an unexpected crisis and accelerated change, and Manikkam admits his team has learned a lot from the experience as they have adapted to a new way of working.
"Our focus hasn't changed," says Manikkam. "We have learned a lot from the past 12-18 months and we are ready and prepared to apply those learnings as we move forward".
"We shouldn't be shy of trying new ideas, new ways of doing things, new strategies – especially in regions like Asia Pacific where it is very fragmented and government and regulatory guidances are changing on a regular basis. We need to ensure that we stay close to our supply market, understand them, understand how they are impacted by regulatory changes and react accordingly to get the best for VISA."
Looking ahead, Manikkam says innovation is absolutely critical for VISA and being integrated into thought processes within the procurement function.
"Supplier diversity enables and supports innovation," he says. "The key suppliers are always there but a lot of smaller suppliers are coming up with cutting-edge technology and ideas that take things further, and that's worth exploring."