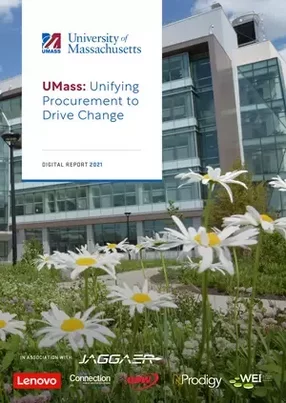 UMass: Unifying Procurement to Drive Change
CPO David Cho on transforming the University of Massachusetts' procurement functions, and the 'better, faster, cheaper' philosophy to deliver value
The University of Massachusetts is a world-class public research university committed to advancing knowledge and transforming lives. Through its world-class educational programmes, groundbreaking research enterprise, and its impactful community service and industry engagement activities, UMass harnesses the revolutionary spirit of Massachusetts to deliver an unparalleled student experience.
With four comprehensive campuses, a top-ranked medical school and a mission-driven law school, each campus offers a dynamic educational experience in a uniquely Massachusetts location, from the coastal town of Dartmouth to the international hub of Boston, from the vibrant mill cities of Lowell and Worcester to the bucolic hills of Amherst. Though separated geographically, the campuses are unified through a central goal of preparing students to contribute to their communities, thrive in a new economy and change the world by providing a broad range of rigorous academic programs and opportunities.
However, not everything shared this central spirit. Until 18 months ago, the university's procurement function was fragmented, with each campus responsible for its own procurement, accounts payable, sourcing, and contract management activities. That began changing in fall 2019, when David Cho, who was the CPO of BlackRock, was recruited through a national search to join UMass as the first-ever system-wide Chief Procurement Officer. Hiring a CPO followed the recommendation of a comprehensive shared services plan, a collaborative, system-wide, cross-functional project that was released in April 2019 and endorsed by the UMass Board of Trustees.
"The outcome was very similar for each of these separate functions at the campus level, but business was conducted in six different ways, with different operating procedures, and even the same technologies were configured differently," Cho says. His first challenge was to unify these disparate organisations and harmonise a "patchwork" of policies, procedures and technologies into a standardised system for conducting business. The new centralised organisation driving procurement efficiency for UMass is known as the Unified Procurement Services Team (UPST).
"The premise of this was to create a shared services environment to support the campuses," says Cho, whose newly unified team now manages close to $1 billion in annual spend and more than 17,000 active suppliers. "The good thing is we had the opportunity to deepen the procurement competencies of the folks in these legacy organisations, who can now go deeper, instead of being generalists," he says. The team reduced in scope from 70+ to 50 specialists, but "we built competency frameworks specific to the function, and we can plan training paths for each individual and role to build more domain expertise". 
With the mandate to create a functioning shared services organisation while still maintaining business-as-usual support for campus procurement activities, the UPST had their work cut out for them. Unfortunately, within three months of becoming operational they had to face the COVID-19 pandemic and its ripple effects on the system. UMass experienced a $240m revenue shortfall. They shifted their focus to supporting UMass in meeting specific short-term objectives, such as health and safety goods and services, and remote learning equipment, that needed to be addressed instantly. But when the initial dust of the pandemic had settled, so too did Cho's focus.
"Better, Faster, Cheaper" 
The procurement harmonisation project is underpinned by a philosophy to derive more value at every point, something Cho characterises as "Better, Faster, Cheaper." 
"It's about ensuring that we have more strategic partnerships, and that we're getting the best value in reducing operational risks," Cho says. "We're faster by using catalogues, for example, and pre-negotiating a lot of framework agreements so that people can point, click, and buy, just like we do every day in our personal lives. To be cheaper, we're using market intelligence benchmarks that come not only in the form of price points, but operating procedures, best practices, and really using that market intel to its full extent." 
The results of Cho's and the USPT's efforts have been immediate. An initial target of achieving $16.5m in annual cost reduction was eclipsed within the first 18 months of operation. The UPST delivered $26.9m in savings through 100+ initiatives, within those 18 months, across each of the five UMass campuses.
"The key to that is data, and we are now much closer to being a data-first organisation," Cho says. "We are utilising techniques that private equity firms might use for optimising their portfolio companies. We're factoring in methods that you would use for mergers and divestitures, and all these different tools and approaches."
Cho expects to see twice the amount of financial benefits in the next year, but the ultimate goal of his initial five-year plan will not necessarily follow a linear path. "It doesn't mean we have to continue to double the output that we're getting from a cost reduction standpoint," he says. "We're capturing this low hanging fruit, but once we realise those recurring savings, we need to continue to optimise and extract costs and inefficiencies out of the system so that it's something that we can confidently harvest year over year. We may not necessarily maintain that growth trajectory annually, but I am confident that it's something that we're going to be able to benefit from on an ongoing basis."
Procurement with Purpose
Beyond the mechanics of cost-saving, Cho and his team are driven by their contributions towards the UMass mission of providing affordable and accessible world-class education. This is procurement with purpose. "That's why I think many of the leaders who joined us, particularly from the non-higher-education verticals, are so excited about this, because the mission really resonates," Cho explains. 
Technology adoption and an overarching digital transformation have been crucial to UPST's results. The organisation leverages tools like Jaggaer for daily procurement activities, Salesforce for case management, and Tableau for business intelligence, among others. But in Cho's mind, technology alone will only get you so far. More important is to prioritise, harmonise, and modernise policies and targets, upgrade procedures and processes to align with the policies, and ensure the team has the core competencies to operate within them. 
"When you have all those pieces together, the rollout of technology enablement becomes much more elegant, and it gets you to the outcomes and the output that you're looking for," Cho says, pointing to ensuring applications are uniform across both desktop and mobile devices to enable flexible work, as an example. "The more important thing is being able to leverage your suppliers' technologies, as well. We can't be everything to everyone. It's not just about building the catalogue, for instance, but how do we leverage their platform? Some of our partners' data on the things we buy is better than the data we have in-house. So we can leverage that kind of intelligence." 
The Power of Partnerships
A good example, Cho says, is the partnership with Huron, with which UMass' investment has risen over the past 18 months. "They've been terrific in looking at where we are today and where we want to be tomorrow," Cho says. "What's really vital is that it's not just what they know, it's how they deploy. It's how the team we work with at Huron take in that input from us and understand the particular outcomes that we're looking for. To be able to factor in change management, very gracefully as part of the underlying sense of processes and services that they're delivering, has been tremendous."
Another key supplier, SupplyLogic, provides "intelligence that we can't build," Cho says, which is helping the organisation towards its supplier diversity objectives. Taking print services as an example, the UPST can leverage SupplyLogic's platform to discover veteran-owned suppliers, minority-owned businesses, woman-owned businesses, and other diverse partners in the local community. "This is really valuable to us," Cho says. "That's an area where we can leverage our partners' technologies to get that visibility, and to make those kinds of important decisions." 
Enhancing the diversity of suppliers is a key objective of the University of Massachusetts, and by extension the UPST, and although the central procurement organisation is barely 18 months old, Cho is happy with the progress it's already made. The university's spending with diverse suppliers is "trending in the right direction," with both a short and long-term plan to build a more robust diverse supplier base. 
"We're also incorporating inclusion and equity into all of our competitive processes," Cho adds. "That's not something that was mandated by any government programme. We have imposed those requirements on ourselves to build accountability. We're also pushing strategic providers that act as primes to provide more visibility into their second-tier level spend, so that as dollars flow to them, they also make their way to diverse suppliers. That is very impactful."
The UPST has performed above expectations throughout its first 18 months, and as it matures further, Cho is confident that procurement will provide further savings, and reroute vital value and resources into the university's educational programs. But Cho is quick to highlight that the work of UPST, its future ambitions, and its ability to deliver transformational results is a holistic effort, achieved through collaboration with various UMass stakeholders. 
"Being able to promote this level of change in coordination with the campuses couldn't have been done without leadership sponsorship," Cho says. "We've been empowered. We have UMass President Marty Meehan's backing, the support of all the campus chancellors, the campus Administration & Finance (A&F) Vice Chancellors and the UMass Senior Vice President for Administration and Finance (CFO) and Treasurer, Lisa Calise." 
"I'm so proud of all that we've been able to accomplish in such a short time, and under such challenging and unprecedented circumstances," says Calise. "The collaborative approach between the system and campuses, especially between the A&F leadership, has been paradigm-shifting for the university, and enabled us to leverage the university's buying power to benefit the campuses. Our team – driven by exceptional leaders like David – will continue to experiment, innovate and push the organisation to realise every efficiency and ensure that we are delivering on our mission in the most competitive manner possible."
According to Cho, the UMass campus leaders are "encouraging us to do more and continue to move the agenda forward. With 75,000 students and 24,000 employees, UMass is the largest university and third-largest employer in the state of Massachusetts. So there are many priorities, and being able to have that one vision that leadership endorses, is just tremendous. What really makes this incredibly powerful is that egos are checked at the door and it's all about just doing the right thing."