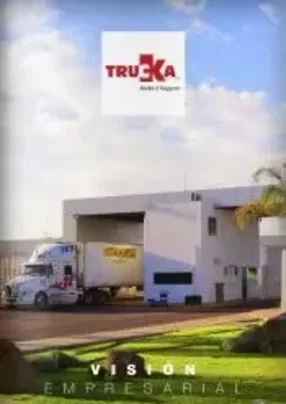 Produced by Lucy Verde
Interviewee Jose de Jesus Castañeda Bañuelos, CEO of Trucka
     Trucka is synonymous of more than 70 years of experience in the automotive industry, an experience that shows in their range of services and professionalism of all departments, from their drivers, presence and procedures, to their fleet of 400 trucks.
     Their vehicles are located in various terminals of the Mexican Industrial Corridor and ready to provide solutions 24/7 to both domestic and foreign clients, respecting delivery deadlines and safety regulations at all times. Trucka is currently crossing national barriers, delivering in the United States and Canada through strategic alliances with 36 American lines.
      The company is present in 11 strategic locations in the cities of Guadalajara, Monterrey, Queretaro, Saltillo, San Luis Potosi, Manzanillo, Nuevo Laredo, Mexico City, Aguascalientes and Silao, the home of their corporate headquarters and Operating Centre (COT).
Competitive Advantages
Trucka has integrated the latest resources to provide greater efficiency in their daily operations, such as an updated GPS system, software SRP and digitalization of all internal movements.
      As part of their vision for 2020, they have implemented the "400 Renewal Plan" to keep their vehicles in constant maintenance and with an average life of three years, a process that began in 2011.
Strategic Partners
Suppliers are critical to the growth of the company. They provide a mutual progress with developments in the industry that will place them in new markets. Year after year the company strengthens their relationship and verifies that the supply provided go pair in pair with the company's vision, a vision of quality, efficiency, cost-effectiveness, time management and the inclusion of new technologies.
Responsible Activities
In partnership with the Autonomous University of Aguascalientes, Trucka has ventured into the production of biodiesel to supply its fleet, benefiting the environment with friendlier operations.
      Their social responsibility goes beyond environmental management, since they also support renowned sports and charity organizations, such as the Integral Rehabilitation Center Telethon (CRIT), club Necaxa based in Aguascalientes and the baseball team Rieleros de Aguascalientes.
The Interview
In an interview with Jose de Jesus Castañeda Bañuelos, current CEO of Trucka, he mentioned the company's growth plans, their projections and 2020 objectives. Here his answers.

BRAL. ¿What is the company's vision for the next five years?
JC: In Trucka we have a business plan called "Vision 2020" which clearly defines the objectives of the company by sector.
      In broad terms we believe that in five years the company will double in size through organic growth and a clear plan of mergers and acquisitions.
      We can achieve this with the incursion into a private equity fund as a shareholder of the company to accelerate its growth. We hope to make our first debt issue in 2015, and in the not too distant future, become a public company.
BRAL. ¿What is your greatest success as the CEO of Trucka?
JC: Having managed to turn a family business into a corporate one by maintaining a stable and lasting relationship with all the members. And always knowing what you can expect from a family business.
BRAL. ¿What are some of your environmental policies?
JC: In Trucka we are concerned about the environment, every year we renew our vehicle fleet in order to have the most modern engines and to emit fewer pollutants. We have an R&D center in which we made great efforts to produce biodiesel and in analyzing the recycle process of used oil.
      Our organizational communications department sensitizes our staff in the proper use of resources, and in the use of environmental safety regulations in the workplace.
BRAL. ¿Are you planning to expand operations to other markets?
JC: In the coming years we see a consolidating phase in the domestic market. But so far we have not laid eyes on other international markets.
Related articles: