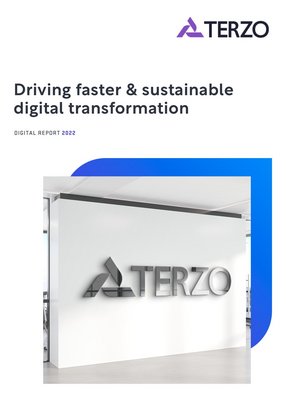 Terzo: driving faster & sustainable digital transformation
Brandon Card, CEO & Founder of Terzo, introduces the company's digitalisation mission, achieving sustainability in supplier management & its future plans
With a keen natural interest in technology and a stroke of perfect timing, Brandon Card (CEO) founded Terzo in 2022 with a vision to help large organisations drive sustainable digital transformation.
Leveraging data across the entirety of an organisation's operations, Terzo helps enterprises optimise their relationships with critical suppliers, generate cost savings and drive faster innovation.
"Terzo is a supplier cloud platform. We offer three key solutions," says Card. "We primarily work with Fortune 1000 companies, helping them with contract management, spend analytics, and ESG programme management.
"For many years, I heard of the difficulties when it comes to managing the third-party supplier ecosystem. The need for a new supplier cloud platform to centralise all critical supplier data is what drove me to build Terzo."
Card believes that it is the platform's consumer-grade user experience that makes it stand out from others out there on the market. "We've developed this product with a lot of design thinking," he says.
"We are very passionate about providing a simple, intuitive user experience to our customers, and one of the big differentiators between Terzo and some of the other legacy players in the industry is our contract intelligence and AI.
"We take complex metadata out of vendor contracts to provide intelligence and insights – this is the big gap that we're filling. We are bringing intelligence to these companies so they can better understand where their money is going and the associated risks. Terzo is a very flexible platform for our customers to drive faster and more sustainable digital transformations."
Helping customers make smarter decisions
Delivering on its promise to provide instant visibility across supplier contracts is central to the Terzo mission. By centralising siloed data across an organisation's operations, Terzo provides a 360 dashboard view of supplier data for its users.
Card explains: "With this capability, leaders can make smarter decisions when it comes to the likes of rationalising its portfolio or finding redundant services and software. Organisations can also drive greater efficiencies and cost savings, as well as mitigate risk.
"So it's a combination of helping customers optimise cost and waste, but also providing the ability to reallocate that waste and spend on new innovative strategic projects instead."
Automating contract renewal tracking
An important element of Terzo's offerings, the automation of contract renewal tracking enhances the manual process with alerts and intelligence that increase the buying cycle speed. "This reduces the risk of missing important contract renewals and increases the time to be proactive and negotiate," says Card.
"That's one of the important elements of Terzo, being able to give people enough time to renegotiate, get the right people to the table, and be able to optimise the value from these agreements."
Helping customers improve their data
For many organisations, data lives in various different silos. Email and spreadsheets are the most common ways that organisations manually gather data. With Terzo's ability to integrate with more than 800 applications, the company helps customers to gain insights into this scattered data.
"We understand that data lives in many different silos, and our goal is to centralise that data for our customers using our API integrations and supplier 360 dashboard. This allows us to bring all this data to the forefront so people can make smarter decisions and reduce the amount of errors that come from manually moving data," says Card.
Providing spend management insights
Aside from its core offerings – contract management, contract renewal and forecasting – Terzo helps its customers to effectively analyse their spend.
Pulling together the spend data from multiple systems, such as ERP, finance systems and procurement platforms, Terzo provides intelligent insights to its customers. Such insights include supplier diversity spend and the amount of spend generated by individual departments or business units, to ensure that organisations stay on track and meet their budgets.
"We are also very excited about rolling out our new ESG programme management to help organisations manage their sustainability, diversity, equity, inclusion and social goals," explains Card.
"This is a new area for us that we're rolling out this summer, but it will complete the supplier cloud platform having contracts, spend and ESG all together in one solution."
Terzo the future ERP for ESG
Currently concentrating on the social aspect of ESG – important in light of government and investor focus on this area – Terzo helps organisations to track their tier one and two supplier diversity, to help companies reach their goal of spending more money with diverse suppliers across their ecosystem.
Looking to the future, Terzo plans to expand its ESG programme management and goal tracking to include carbon tracking and reductions. "We plan to help organisations track their multi-year emissions reduction projects with our software, centralising all stakeholders, budgets, projects, activities, and tasks required over a given period of time to ensure the success of their reduction targets. We will allow them to manage the entire life cycle of those long-term projects," says Card.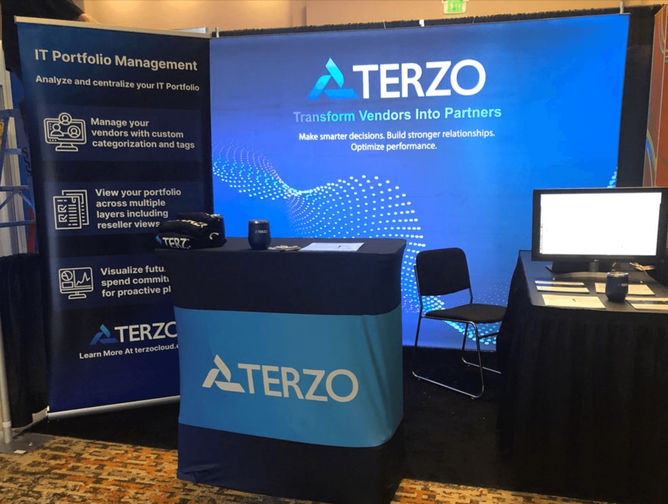 Terzo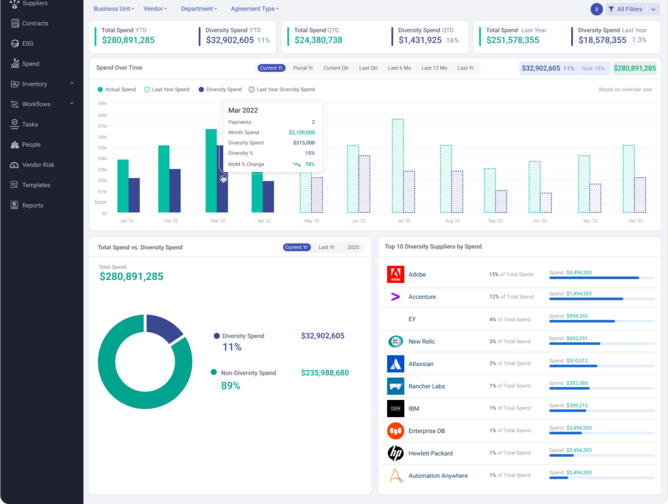 Diversity Spend Dashboard
ESG - Program Dashboard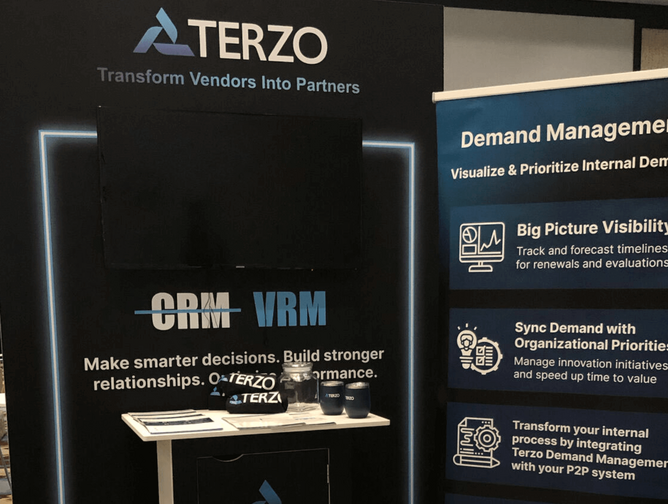 Terzo