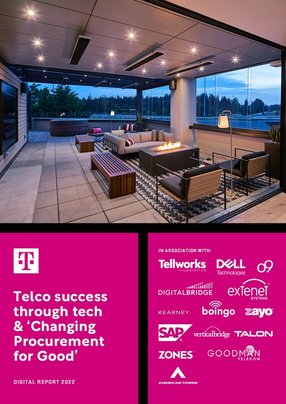 'Changing Procurement for Good' at the 5G leader
Chief Procurement Officer Mike Simpson is making a positive impact in procurement at T-Mobile through leadership, partnerships and cutting-edge tech
T-Mobile consider themselves the 'Un-carrier' - a non-traditional wireless network operator born not from traditional landline-based companies, but out of the wireless ether that has recently launched the world's first nationwide standalone 5G network (and still the only one in the U.S). The company has deployed the largest and fastest 5G network and the reach is growing on a daily basis.
This 'Un-carrier' ethos originated as a marketing campaign in 2013 to introduce a streamlined plan structure for new customers, dropping years-long contracts with subsidised phones, coverage fees for data, and early termination fees. As former CEO John Legere said in testimony before Congress in June 2018, "We set out to fix a stupid, broken, arrogant industry."
Since then, the 'Un-carrier' has become synonymous with the entire organisation's attitude, shaking up standard practice in telecommunications by boldly reaching new heights like becoming the first telecom to commit to - and achieve - the goal of sourcing 100% of its total electricity usage with renewable energy by the end of 2021.
By listening to customers, taking actions that remove pain points, and breaking free from the old way of working in the cellular industry, T-Mobile is leading the industry. Years ago, it scrapped contracts and transformed its customer care teams - getting inspiration for every new initiative by listening to what was coming out of the consumer base. The business listens to its own people and it's suppliers too, which are as diverse as the workforce.
T-Mobile most awarded wireless provider in history
T-Mobile received the top spot in the J.D. Power 2022 report, marking the ninth consecutive win and the 23rd time T-Mobile has taken the top spot among mobile network operators. The company has the most wins of any other wireless provider in the history of the study with a score of 823 — a full 26 points above the segment average and the highest scores in all categories including phone, store, app, web, social media and text services. T-Mobile has taken the top spot consecutively in their segment in the J.D. Power study ever since the Un-carrier launched Team of Experts in 2018, which was a case study in the Harvard Business Review.
People, ownership and alignment
At T-Mobile, the Procurement teams are crucial to the business running efficiently, profitably and in times of scarcity, getting those countless and crucial buying decisions right. Examples of this include the Procurement team's massive network supply chain operations, the company's focus on sourcing 100% of its total electricity usage with renewable energy, multi-billion-dollar agreements with cell site/tower companies, and a focus on working with diverse suppliers.
Part of a relatively small team, Mike Simpson, Chief Procurement Officer, reports into the President of Technology, Neville Ray. It's this entire Technology organization that has helped lead 2019's momentous launch of T-Mobile's 5G network. Mike Simpson has the lion's share of the organisation's expenses within his scope, as he explains: "Everything sourced by T-Mobile outside of handsets runs through my shop: Cell tower leases and real estate portfolios. Anything involving really sensitive technology. Our computers, office equipment, marketing agreements, consulting, and more. My team drives value and return on investment out of the right purchasing decisions and this often gets down to technology choices".
Simpson's leadership teams are structured into business units, with full responsibility for their function, their budget and their people: "We have three tenets that we feature in our Procurement & Supply team: people, ownership and alignment. We have some lofty goals every single year. One thing you always have to think through is: how do you invest in your people and provide consistent leadership? We're inclusive, diverse and people-first, so our people drive our business forward."
According to Simpson, T-Mobile's core values help to empower the procurement teams, allowing people to make decisions and encouraging ownership of their respective functions.
"We're all owners of this company. We're all here to delight our customers. Purposeful alignment across employee teams is vital to achieving great results – for our wireless customers as well as for our internal business units. Consistent communication of objectives, expectations, corporate-wide initiatives, cost savings initiatives and risk management – these are a few areas where my leadership team and I place attention."
You won't find Simpson and his team resting on their laurels either, even if they complete their goals or hit targets in mid-year. "We always strive for more," said Simpson.
Leadership in ways that are unexpected
Simpson was inspired by informal lunch meetings that CEO Mike Sievert held with colleagues, so 'Coffee With Mike' became his chance to engage regularly with people he wouldn't usually see or work closely with. Simpson saw this as a valuable mentoring opportunity and also a way to gain valuable feedback from all levels of the organization. It also birthed some great initiatives such as the case of an industry-wide job training and career placement program – NextTech Diversity – that emerged from the shadows of the pandemic in mid-2020.
"I was challenged about how we could do more at T-Mobile, from the diversity of our supply base while buying and spending more with diverse companies. How could we double-down and actually create jobs in such difficult times?" said Simpson.
Launched in early-2021, the NextTech diversity program has supported the training of 50 women and men of color during its inaugural year – with a success rate at 100% for placing those 50 graduates into career opportunities with multiple companies in the wireless industry.
Simpson and his team have raised awareness about programs that support veterans, women and men of color – as well as supported financial assistance to family members of severely injured, permanently disabled or deceased tower workers. That awareness has an impact across the entire T-Mobile enterprise as the company recently announced a USD $2.5mn donation supporting the Thurgood Marshall College Fund's scholarships and aimed at opening doors to equitable economic and educational opportunities for young adults.
Simpson added: "We had our first NextTech Diversity graduating classes, for field technicians and tower climbers, up and running within six months. From a grassroots campaign, we've actually grown this initiative; during the fourth quarter of 2021 we expanded the program to train candidates interested in getting licensed as commercially-licensed truck drivers – a huge supply chain need in the U.S. right now."
"As leaders, we need to actively listen to our teams on a regular basis because some of the best ideas come from throughout the organization," said Simpson. "Creating NextTech was a prime example of that," he said.
This is nothing new for T-Mobile. As part of Simpson's focus on 'changing procurement for good' he is the executive advocate of an annual golf tournament that has raised more than USD $3M over eight years for two wireless industry charitable organizations: Warriors4Wireless and the Tower Family Foundation.
It's a cause dear to Simpson's heart: "This is a very dangerous, complicated business that tower climbing companies are in. We make sure proper training is provided to veterans seeking a career after their military service. And, through the Tower Family Foundation we work to make sure financial support is in place for their families and themselves should an accident occur," he added.
The pandemic causes massive supply chain constraints
When T-Mobile US merged with Sprint Corporation in 2020, in an all shares deal worth USD$26bn, it completely moved the needle for the organisation. But days before the merger was finalized, the pandemic hit and with it, massive global supply chain constraints became reality: "I remember the first calls to our task force. Do we have enough toilet paper and medical supplies for our retail and customer care and technology teams? They never went home! They stayed on the front lines. We shifted focus to our front lines so they could help our customers."
Simpson and his team were relentless in their pursuit of the right products; so their crews and personnel in the field, in stores and in call centers had what they needed to build the network and continue to serve customers during such a critical time. Their actions were a true reflection of what President of Technology Neville Ray, calls the 'always on' approach.
"We turned our suppliers into partners at that point in time. We depended on each other and figured things out together. It's changed our culture and how we handle our partnerships with our key providers on a day-to-day basis," he added.
According to Simpson, the response to the pandemic was a triumph over adversity also due to more than 30 original equipment manufacturers (OEMs) that really stepped up and delivered.
"We invested in our supply tool suite and advancements in technology, such as using drones for inventory management. Our network supply chain partner, Tellworks, invested to streamline our supply chain warehouse and distribution programs. With more than 2,000 diverse suppliers - there's tremendous opportunity to do more in this area – and many others to thank," said Simpson.
Guiding procurement in a non-traditional telco
Simpson is an advocate of doing things the right way, especially in a company that is proud of its differences from its competitors and its Un-carrier brand.
"The way we procure and manage our backhaul is different as we aren't a wire line company. We also have our network supply chain that falls under my organisation, which is pretty massive and the engine that runs our network builds", says Simpson.
"We are also closely engaged with our national and regional teams, who are building cell sites. That's likely a bit unique."
Simpson also raises the way they handle asset management, and in particular, the largest asset the company owns: Spectrum.
"Spectrum is the lifeblood of wireless networks. It's what we are licensed to use from the U.S. Federal Communications Commission (FCC) to benefit our consumers. That asset management sits under my organisation. Our spectrum assets – worth tens of billions of dollars – are a big differentiator in how we provide this 5G experience that's well ahead of the curve in this space", he added.
Spectrum mastery key to market gains
T-Mobile has assets in low-, mid- and high-band spectrum. The layer cake strategy was devised by Neville Ray and is a good visual indication of how coverage works. The low band works on achieving nationwide coverage, the mid band is driving widespread 5G adoption and the high band is for more powerful uses requiring massive capacity, such as augmented reality.
Simpson's spectrum asset management team has done a deep dive into the company's spectrum and cell sites, resulting in self-built applications that visualize spectrum assets across the country. This allows deployment teams to pinpoint spectrum assets at any cell site location and maximize the use of available radio waves.
Simpson states that: "Spectrum frequencies are not always the same across geographies and markets. You have to make the right investment choices and use advanced analytics and workflow engines to bring them to cell site network planning. From a cost perspective, it's also vital information we can use."
Simpson credits his Spectrum team for revolutionising digital license management and aiding operational control, while also making certain our spectrum use is compliant with the FCC. Our tools also provide an understanding of the licenses of their competition, which means field technicians can readily see, in advance, who owns bandwidth at any given cell site.
A good example of the effect of these technologies on cell site strategy was seen with the expanded partnership with some of our largest cell tower landlords: "That was really foundational for us to rapidly start deploying our 5G network. Great shout out to Crown Castle and American Tower for working through very complex engagements with us and signing new agreements during 2021. Both sides saw that as a partnership as a win and it fuels our ability to actually access more locations," said Simpson.
From disruptors to market leadership
Part of the organisation for almost ten years, things were very different when Simpson first joined T-Mobile – the wireless provider was in fourth place in the competitive pecking order. That was just about the time that T-Mobile adopted a challenger mindset that manifested the Un-carrier spirit.
The acquisition of Sprint was significant both for the value of its customers and people – as well as the breadth and depth of mid-band spectrum brought to T-Mobile that they so vitally needed. With coverage the key issue in comparison with big rivals such as Verizon, the acquisition was a game-changer in both reach and speed.
Now the company is the dominant player in 5G, T-Mobile's next challenge is to maintain the same drive they had when they were starting out. Simpson adds: "For us to get to number one and stay number one, you have to have a maniacal focus on the customer base. If that ever changes, then we'll probably not be number one at the end of the day. For us, the wireless consumer is our rallying cry and that's what we get behind every day."
Simpson is bullish about the achievements: "We are way ahead of the competition in providing a true 5G experience. When considering our locations and the advanced network services we can provide an enterprise business, having a standalone 5G core already created, developed and deployed – all this gives us an edge", he said.
Looking to the horizon with technology investments
Navigating through the pandemic successfully required sensible investment in T-Mobile's internal systems and the investment choices its suppliers made to transform the ecosystem. On the investing side, Simpson said: "Within procurement, we're adding analytics engines and category management functions and tools to really fuel the right decision making and procurement buys. We're making some great strides and I'm excited to see where we go from here."
In the network supply chain, automated drones are ensuring inventory is accurate and the business is complying with audit functions and well as delivering greater efficiencies. When it comes to cell site audits, Talon's flying drones bring more precise inputs into cell site builds. For site maintenance and disaster recovery, they can survey the areas before sending in crews. Simpson said: "It's amazing to see how you can up-level your game regarding the precision and accuracy that technology can bring, as far as combining drones, advanced analytics and all those learning capabilities."
When quizzed on how to revolutionise the buying experience in 2022 and beyond, Simpson says it's about getting further up the chain with business partners to align on core initiatives and key areas, and to enable a more streamlined buying process from their experience.
"We've started this transformation with the analytics and process controls. I think the next steps are the implementation of NextGen tool suites. We have big plans there and more to share with some significant partners, so there's tremendous value in getting things even faster, to fuel growth for the business." he said.