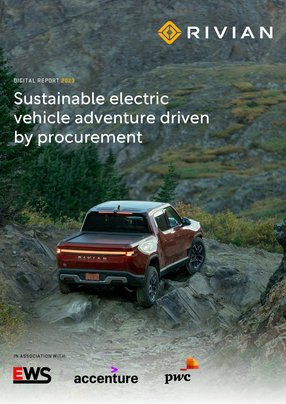 Sustainable electric vehicle adventure driven by procurement
Brad Hood, Director of Indirect Purchasing at Rivian, on the benefits of a 'blank canvas' and how the EV manufacturer implements sustainable procurement
Anyone harbouring a passion for adventure and sustainability will no doubt have heard of the company leading the market for electrified pickup trucks.
Not only does Rivian boast sustainability credentials across its entire business, it's also a business built with the planet at the forefront of all its activities. Yet, while there are many exciting aspects to highlight, the critical element of Rivian's story is the "design and development of category-defining electric vehicles", in the words of the company's Director of Indirect Purchasing, Brad Hood.
We often see the company through the consumer lens. Thousands evangelise the clean, robust, unique style of the Rivian R1T and R1S—its pioneering EVs, the pinnacle of the environmentally and socially responsible business.
Founded in 2009, the Rivian story began with a vision for sustainable mobility. As an automotive enthusiast himself, the company's founder, RJ Scaringe, saw that the two things he lived for—cars and nature—were not compatible in the long-term. This conclusion formed the very basis of the company, which holds an integral place in the electrification of automotive.
"He created a product that was a more sustainable alternative to the fossil-fuel-burning carried out by internal combustion engine vehicles. He really wanted to facilitate a transition to more neutral energy transportation, not only for our generation, but for our kids', kids', kids," says Hood.
"It's a multi-generational purpose that goes beyond any one of us, which is what drives the overall culture at Rivian: we're here for something bigger than ourselves."
Of course, there's more to Rivian vehicles than the fact they run on electric propulsion. The company prides itself on sustainable sourcing and leveraging a circular system, right from the design stage. Its batteries can be easily removed for either recycling or 'second life' applications. When it comes to the interiors, vegan leather and other animal-free materials are used, with mid-life repairability in mind.
Beyond the product itself, sourcing also involves the unique procurement of ocean-harvested plastics for its dunnage containers and other packaging solutions. Such actions earned the company the 2022 Excellence and Reusable Packaging award from the Reusable Packaging Association.
"We use the most sustainable products we can and when we went public, 1% of the company went to the Rivian Forever Fund," says Hood.
"We think about how to operate responsibly within the plant. When we began the conversion of the old Mitsubishi plant to the new Rivian plant, we used some of the old steel to make tables, a mezzanine—and we even repurposed old robots as a door holder for the conference room.
"We reused things, and maybe went above and beyond. Instead of scrapping it, instead of getting rid of those materials, we thought, 'how can we repurpose that and reuse them?'."
Indirect procurement provides the operational foundations
As a new entrant to the automotive industry in 2009, Rivian was built with sustainability in mind. And being a new business gave the company a competitive edge to not only grow, but advance the use of new technologies and lean processes.
Hood explains that when he joined the organisation in 2018, the procurement function was significantly smaller than it is today, but this has allowed the company to take an approach that is driven by technology.
"When I joined, there were 500, 600 employees. There were about three people within our department," Hood says. "Now, the total company size is more than 20 times that."
"At the beginning, we had a shell of a manufacturing plant. Now, we're fully operational, building three different vehicles with multiple different variations in Normal, Illinois."
Rivian cultivating a business on what was seemingly a blank canvas meant that the company worked through many challenges in its indirect procurement function to ensure that it remained true to its roots.
The solutions adopted by the company were pivotal. They allowed the team to focus on more hands-on tasks, alleviating the need for human input in the day-to-day processes.
"We had the opportunity to build an organisation that is truly best-in-class, from the ground up. We don't have to change any old behaviours; we can create new ones, and in the right manner, too. Balancing the two of those meant knowing what we needed to do daily versus what was required to build a foundation for the future.
"This was the biggest challenge, balancing that short-term and long-term needs. There are so many day-to-day requirements, but we must be able to balance the day-to-day work, while building the foundation of the organisation we desire to build."
Another major challenge that wreaked havoc on all supply chains—and inevitably affected Rivian—was the COVID-19 pandemic, which meant navigating a remote-working environment while scaling and taking on new team members across the globe.
These trying times meant the company had to adapt to onboarding and training the team online, without knowing when new starters would come into contact with their colleagues.
As a result of these challenges, the company adopted 'category cards' to create ease in the purchasing process. This is just one of the ways in which the company streamlines the onboarding process, automating indirect procurement processes to allow a smaller team to manage more purchases.
"When you log in, you see the category, you select that category, and it gives you a brief description to tell you if you can buy it from a catalogue—so we can drive more spend to a catalogue—or it gives you a direction to reach out to a purchasing manager or supplier," Hood explains.
"That way we can touch more spend with a smaller team, increasing the addressability of the spend and continuing to educate the rest of the organisation to drive spend to our preferred buying channels."
Further sourcing platforms used by the company provide further standardisation of indirect procurement processes. This includes supplier negotiation preparation, which can largely be templated—as Hood explains.

"If we are working on an e-sourcing event or an auction, we can leverage these templates. Automatically, a quantitative proposal comes in and we can analyse that based on our previous price paid, other proposals, market intelligence," says Hood.
"We can look at that pretty quickly and find any outliers, identify where the best quantitative values are and work with our stakeholders on as we incorporate the qualitative aspects. These tools really allow us to work faster."
While businesses would often apply the term 'digital transformation' to their operations, it seems Rivian is beyond this, ensuring that technology is embedded into all processes from the earliest possible stage as part of its strategic approach to growth.

"It can standardise things and reduce errors but, for us, it allows us to actually promote and enrich the daily operations of those working in data entry roles. They've now gone into more category management roles and supporting student sourcing, as well as those roles where we can marry technology and experience," Hood explains.
Leveraging partnerships to integrate more technology

As the company looks to ramp up the production of EVs, technology will become an integral component in allowing the organisation to scale its operations and meet demand.

The company will continue to add value to its services sustainably, with sourcing playing an integral role in reducing emissions down the supply chain. As the company expands its own charging network, technology will allow personnel more time to explore renewable energy sourcing, making sure that Rivian customers are charging up with clean energy.

Meeting its strategy for success hinges on its use of data in the procurement functions to standardise processes and focus on saving costs, time, and limiting negative climate impact—with the overarching aim of eliminating it. As such, the procurement team will look at supplier spend and consider whether its dollars are going towards the desired suppliers.

While much of the technology adoption and integration is carried out in-house, Hood explains that technology partners will be leveraged by Rivian to meet demands unique to its processes.

Hood says: "We understand what we want to do in theory—on a whiteboard—but how do we integrate that into the actual software that's more commonplace?"

In trying to answer this question, the company has been able to push technologies to their absolute limits, which is a benefit to Rivian, but also the partner that supplies that solution—making Rivian a testbed ripe for procurement solutions.

Rivian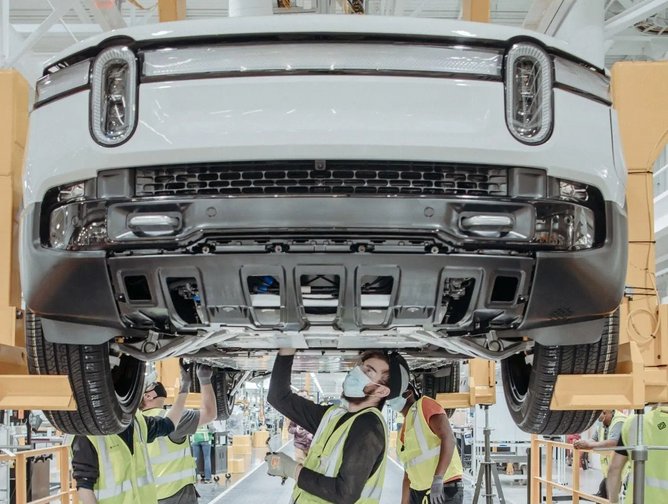 Rivian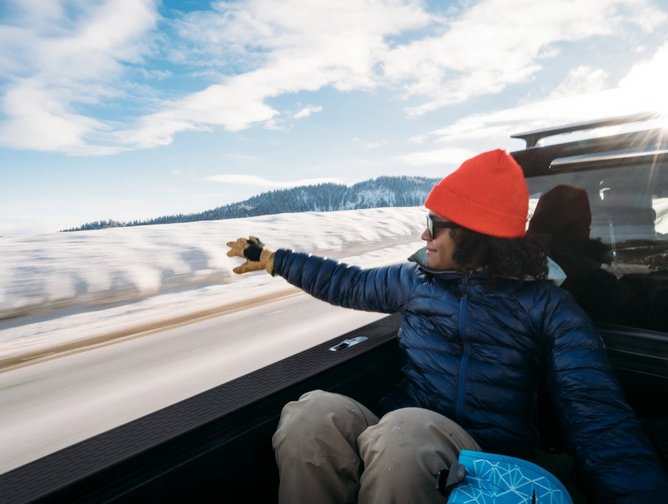 Rivian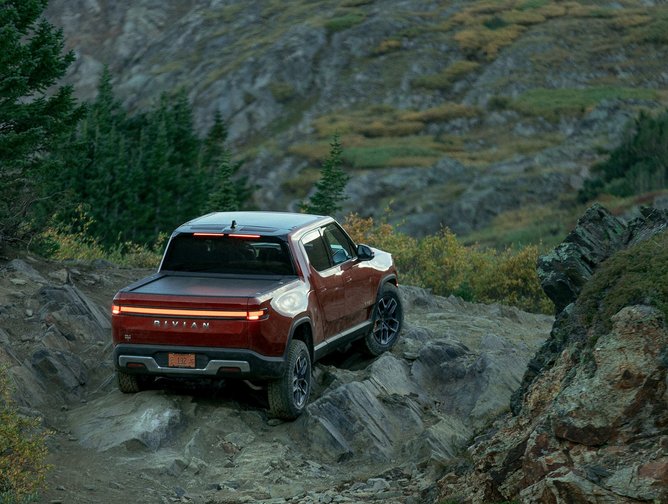 Rivian