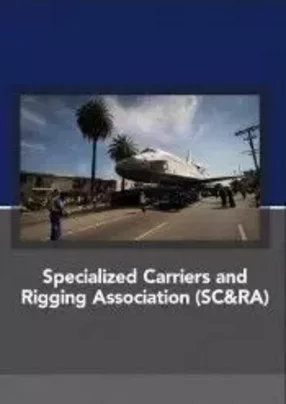 Specialized Carriers and Rigging Association
Celebrating its 65th anniversary in 2013, SC&RA represents more than 1,300 companies in 43 nations. Members specialize in safely lifting, hauling...
Celebrating its 65th anniversary in 2013, SC&RA represents more than 1,300 companies in 43 nations. Members specialize in safely lifting, hauling and positioning huge objects. Allied members are companies other members rely on for equipment, accessories, software, insurance, and more.
Industry Advocacy.SC&RA endeavours to keep regulations less burdensome in many important areas, including energy, insurance, labor relations, crane operator certification, oversize/overweight permitting, safety, taxes and technology. These efforts range from quick calls to local officials to briefs to the U.S. Supreme Court.
To reinforce these efforts in the U.S., SC&RA often joins forces with associations, government agencies and labor unions. Additionally, the World Crane and Transport Alliance founded by SC&RA strengthens global partnerships with its counterparts representing Australia, Brazil, Canada, Europe and New Zealand. 
Affinity Programs.Specialized business insurance available through NBIS gives members access through their local broker to complete, customizable and competitively priced coverage. NBIS coverage includes General Liability, Property/Inland Marine, Commercial Auto, Excess/Umbrella, Custom Cargo/Transit, Trucker's Liability, Physical Damage and Workers Compensation.
SC&RA's exclusive healthcare provider, Association Benefit Resources, offers employees and owners of SC&RA member companies premium discounts on group health insurance through UnitedHealthCare. Additional coverage options include life, disability, dental, vision, auto, homeowners, renters and condo insurance. 
Through SC&RA's agreement with PartnerShip®, enrolled member companies save substantial dollars on every FedEx shipment – inbound, outbound, small, large and tradeshow.
Communications.SC&RA provides timely updates through the SC&RA Weekly E-news, quarterly Safety & Risk Management News; Twitter, Facebook, and LinkedIn social media platforms; and its website. These communications tools enable members to learn about the activities of SC&RA, other associations and unions with interests related to those of SC&RA members; significant regulatory and legislative developments from the local to international levels; safety, financial and management trends; and more. 
SC&RA's official monthly magazines—American Cranes & Transport and International Cranes and Specialized Transport—provide in-depth coverage, including member news and profiles, and innovative developments in equipment, safety, and management.
Meetings and Education.SC&RA's three major meetings annually provide networking opportunities, an exhibit center and educational sessions.
The Specialized Transportation Symposium in March brings together state and federal officials with member companies to maintain a spirit of cooperation, facilitating an improved regulatory environment. Highlights include sessions on safety, legal issues, regulatory developments, the environment, and best business practices. 
The Annual Conference in April is SC&RA's flagship event for owners and top management from hundreds of member companies around the world. Committee meetings move the industry's agenda forward in many areas, and educational sessions feature top experts from the global business community. 
The Crane & Rigging Workshop in September caters to engineers, crane operators, safety directors, and top management with educational sessions presented by some of the field's most knowledgeable experts. Every other year, the Workshop features a tour of nearby manufacturers.
Additionally, SC&RA offers other meetings and educational opportunities.
SC&RA's monthly webinars address a number of topics and audiences from experts in their respective fields and are available for all employees at member companies at no charge.    
At the January Board & Committee Meetings, dozens of committees and the Board of Directors meet to approve the annual budgets and formalize plans for the upcoming year. These groups also address issues facing the industry. 
The Financial & Risk Management Forum, generally held biennially, educates owners, CFOs, CEOs, controllers and other top managers on such topics as employee benefits, succession planning, business strategy and risk management profitability. 
SC&RA Products.SC&RA offers many industry-specific tools such as technical manuals and training videos. Best-selling items include the Operating Cranes Around Power Lines Video, Oversize/Overweight Permit Manual, Directory of Members and Equipment, and Rigger Safety Training Course. Among items offered free to members are the Assembly/Disassembly Guides for Mobile Cranes and Tower Cranes, Crane Accident Investigation Guide, and Crane Hand Signals Mobile App.
Scholarships and Grants.Since 1986, the SC&R Foundation, a separate nonprofit organization, has awarded more than 100 scholarships and grants totaling over $336,000 for students preparing for careers related to the specialized transportation, crane, rigging or related industries. The funding is dedicated to employees of member companies, their children, stepchildren or grandchildren. Scholarships go to students attending four-year colleges and universities; grants, to those attending vocational schools, technical schools or continuing education classes.
The Foundation also has invested over $265,000 in 10 industry-specific research projects. A current study—which analyzed the lack of uniform permitting requirements by federal, state, county, and local government officials—gave SC&RA members a valid tool to use to affect change with state and federal officials.
Awards Program.SC&RA companies compete for Job of the Year Awards for three rigging and three specialized transport jobs in different categories; Safety Awards for superior overall record, zero accidents, safety improvement, project safety, and crane rental service; and Environmental Awards for outstanding contribution is environmental protection. SC&RA also offers awards to formally recognize outstanding achievements by individuals.