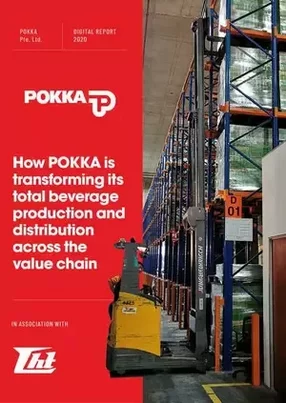 POKKA: a refreshing supply chain transformation
POKKA is focused on upgrading its production lines and leveraging the power of data to improve supplier relationships and distribution...
The Japanese conglomerate POKKA Pte Ltd in Singapore, whose ultimate parent is Sapporo Holdings, manufactures, markets and distributes POKKA to all markets internationally, except Japan. In addition, POKKA in Singapore also distributes a range of brands including Sapporo beer, Evian, Volvic, Badoit, Red Bull, Bundaberg and others in the Singapore market. Sapporo Holdings in Japan has three divisions covering alcoholic beverages, a Japan-focused property arm and a food and beverage group, where POKKA sits.
POKKA is one of the Japanese giant's most successful brands in the Asia Pacific region, where it is a market leader for healthy drinks choices with no preservatives in Singapore. POKKA is also one of the only manufacturers that offers real brewed RTD beverages in the coffee and tea category.
Our brand has won Asia's Influential Brand Awards for the last two consecutive years as Asia's best non-carbonated beverage. POKKA operates three manufacturing plants in Asia, one in Singapore and two in Malaysia.
Rex Macaskill, Group Chief Supply Chain Officer, explains that, as well as manufacturing, POKKA handles its own distribution across Singapore via its warehouse network, with deliveries to the general trade, coffee shops, schools and more. "Where our competitors might outsource to CPLs, we have our own local distribution networks which makes our business more complicated from a logistics perspective," he adds.
Macaskill's role encompasses the entirety of POKKA's supply chain; making reference to his previous job title - Director & Head of Supply Chain, Manufacturing, R&D, Procurement and Distribution – he jokes, "I have to wear many hats. When something goes wrong, I'm the first person they call."
Transforming production
Macaskill joined the company in the winter of 2018, at the beginning of a period of transformation after a tough couple of years. Following an up-swing in 2019, he recognises several factors that have contributed. "The board backed us to be more flexible and got behind the process of upgrading old and inefficient production lines," he explains. "At the moment we run on minimum order quantity which, for example, might mean the line needs to produce 5,000 cartons at a time. The new lines will allow half that, which will make for a more agile process."
Macaskill makes the important distinction that POKKA is not a marketing company based on huge volume, like Coca-Cola, but has a focus on product development and trying to innovate to bring something new to the market. "In doing so, we don't make massive production runs," he adds. "We'll do small runs to test the market and play the niche game. As exporters we might be required to supply a niche product to Dubai and a different version for Cyprus. Our new production line will help us become more flexible in a cost-effective way."
Drinking in the data
Macaskill explains that when he arrived at POKKA the company was working in silos; being reactive rather than proactive. "I went back to 'back-to-basic principles' with how we were working," he says. "We needed greater transparency with data across the whole value chain so our people could see the consequences of their actions or non-actions." From that perspective, Macaskill notes that the application of technology was less about having the latest shiny things and more about taking existing data and making it available to multiple teams.
"We created shared drives so, for example, people could view their production and market plans. It was important to improve the visibility of data and actions. For instance, we could have items in stock but not know how long they had been sitting in the warehouse. Now, we're producing weekly reports and not relying on mental calculations." This overview helps POKKA's plants decide what they need to produce next and enables sales teams to focus on what's selling to make accurate forecasts. This collaboration contributed to POKKA's renewed success in 2019.
Change management
The move away from pen and paper, and manual stock taking, to the introduction of excel templates has improved efficiency at POKKA. With many people having been at the company for 10-20 years, training was key to a smooth transition to new ways of working and educating staff in the importance of accurate stock checks. "Change is the biggest bottleneck," confirms Macaskill. "We can't be in a situation where we run out of stock and lose money for the company, or end up in a situation where we have too much stock. Overstocking puts stress on warehouse space which hits costs. I've been coaching our teams so they can understand the financial impact of one department on another, see the chain effect and appreciate why it's so important to become more accurate in what they do." Going forwards, Macaskill says this will be further supported by the re-implementation of POKKA's ERP system and adding technology systems such as WMS and TMS to further automate and I prove efficiency across the value chain.
Collaboration brews innovation
Macaskill applied the same approach to the procurement of packaging and raw materials to ensure POKKA was getting the best deal from suppliers, rather than simply accepting annual price increases. "We don't need the best technology to achieve these gains," he reasons. "It's about getting back to basics, because supplier management is so important. Communicating with them about the latest trends can help us understand what's happening in Thailand, Indonesia and beyond. We're going to start working more on these collaborative projects when we set up our innovation team at POKKA, which will include suppliers joining our brainstorming sessions because they come with new ideas for raw materials and concepts for future products."
This back to basics approach lies at the heart of Macaskill's view on the modern, rapidly evolving procurement function. In such an environment, he believes that working with stakeholders on the four key elements of procurement transformation are essential.
Find the Money: Understanding current spend with a data driven approach to find untapped savings.

Get the Money: Tightly controlled strategic sourcing projects with clear accountability and targets.

Keep the Money: The right infrastructure and processes need to be put in place so savings stay "saved".

Optimise: Tax optimisation to sustain the realised savings
He explains that the role of procurement is now viewed as a vital function that is essential for supporting business goals. As such, the procurement function has shifted from one centred around just purchasing to strategic procurement, which encompasses the management of end-to-end supply chains, proactively managing key categories, using automation and e-tools, and procurement professionals acting as highly skilled relationship managers.
"We're working with partners like Tetra Pak on trial runs with new product development," Macaskill continues. "We have a good relationship and use their machines at our factory in Malaysia where we've addressed quality issues. The big topic is sustainability; we're looking at solutions to reduce plastic straws in our Tetra Pak products and offer a paper alternative but at the moment the issue is cost."
Supply chain gain
Macaskill is excited about POKKA's new partnership with a 3PL consultant. "This will help us to transform our supply chain in terms of warehouse and distribution management," he says. "Currently we have five different warehouses in Singapore to manage our packaging materials, raw materials and finished goods. Our objective is to have one warehouse as our distribution centre which will help us avoid any out of stock issues and not to mention unnecessary handling and transportation costs. We aim to rebuild our central warehouse into a multiple-story logistics hub by 2023. We'll need to go through several phases to merge our warehouses for manufacturing and distribution together. We will implement a warehouse management system (WMS) and a transport management system (TMS) to help us run the whole operation efficiently and cost effectively. We want to deploy data analytics to better understand the behaviour of the customer and the delivery process, so that we can bring in AI to predict when customers will order, as well as what they will order."
Building on that new supply chain approach, POKKA plans to "convert" delivery drivers into salespeople over the next three to five years. "Our truck drivers make deliveries to coffee shops and other market outlets. We're looking at a more automated system where predictive analytics will help us load each truck with the deliveries outlets need, while the driver can check inventories on a mobile device and take new orders on the spot. This way, the truck becomes a mobile warehouse."
Recruitment challenges
Recruitment in Singapore represents a challenge for Macaskill and his team. "Singaporeans don't always like to do the lower-skilled jobs," he says. "However, the government is introducing new quotas on the number of foreign workers allowed. In 2019, for example, for the service sector, the figure stood at 40% of the workforce; this has reduced to 38% in 2020, although our understanding is that the government aims to reduce this to 35% in 2022. In manufacturing, the figure stands at 60%, which helps us. However, changes will actually force companies like us to move towards more automation, therefore we will need to get higher skilled people who will be predominantly Singaporean or a Permanent Resident of Singapore (Singapore PR). The challenge will be to upskill the native workforce to meet the needs of digital transformation."
Planning for success
POKKA's factory in Malaysia is in a free industrial zone and is only allowed to export 20% of its products from Malaysia. Macaskill explains that he has been working with the Malaysian government to avoid the payment of duty on that 20% so that the impact on margins is lessened and profitability is improved.
POKKA's Group Chief Supply Chain Officer has also been looking at transportation modes to reduce costs. "I've been working with suppliers to provide us with double decker trucks which can load almost double the quantity of product – up from 22 pallets to 40 – which also brings cost savings from a cost-per-unit perspective." At the company's main warehouse in Singapore, this approach is also being applied to forklift trucks. These are being switched for a different model capable of a tighter turning circle which allows the space to install another row of racks in the warehouse. "This means that we can improve our warehouse utilisation (number of pallets per square meter) with more than 20%, leading to significant cost savings," explains Macaskill.
POKKA is also benefiting from new savings via procurement. Macaskill is leveraging the distance between Singapore and Malaysia, which is much more cost effective for imported raw materials in the free industrial zone. For example, the company is saving on core commodities like sugar this way. "A focus on Procurement basic principles has led to a significant improvement of margins," he confirms.
2020 vision: moving towards a circular economy
"How sustainable can we become while managing rising costs?" asks Macaskill. It's the biggest trend he's seeing in the industry and one that is at the forefront of POKKA's plans. "It's one of the reasons why we're replacing our existing production lines for PET bottles," he says. "We aim to reduce the PET bottle weight by over 20%. That's a massive reduction in the use of virgin resin to make those PET bottles, as well as the cost of the PET bottle. We're also working with the government to improve recycling; that's a supply chain topic that needs to be addressed on a national level. I believe if we can do this properly, we can create a circular economy, but the government needs to lead because currently it's too difficult to collaborate with your competitors."
 Macaskill urges the need for a unified approach as lasting progress cannot be made by working in silos. "We can learn a lot from Japan's commitment to quality; we need to be more standardised in our approach and deliver the quality our customers in Singapore, and beyond, are willing to pay for."