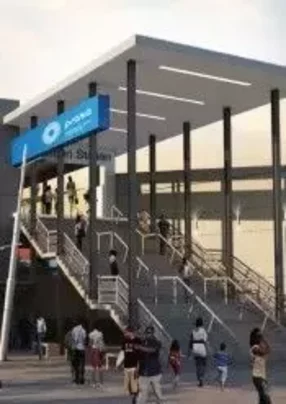 Passenger Rail Agency of South Africa (PRASA)
PRASA brings South African rail services to the top with R51bn rolling stock investment...
South Africa's state-owned public transport entity PRASA is in the midst of one of the world's largest rail transport projects, having last year signed a R51 billion contract with Gibela - a joint venture led by Alstom - to supply 600 commuter trains with a total 3,600 coaches for delivery between 2015 and 2025. The contract came into effect in April 2014.
Alstom is supplying PRASA with its new high-end X'Trapolis Mega trains which will fit the 1.067-metre gauge in South Africa, replacing ageing suburban trains in Pretoria, Johannesburg, Cape Town and Durban with state-of-the-art examples.
"A long time ago South Africa was a well-developed railway country," said Gibela CEO Marc Granger. "This industry has not disappeared but has not benefitted from investment for a long time."
Capable of speeds up to 120 km/h and with the potential to upgrade to 160 km/h, each new single-deck train can carry more than 1,300 passengers, and comes equipped with air conditioning, ergonomic seating, real-time on-board information, Wi-Fi internet access and a combination of direct and indirect lighting, all of which combine to deliver a spacious, comfortable and connected user experience. 
They also set a high standard for sustainability, with a 95 percent recyclability rate, and a light stainless steel car body-shell which minimises weight, while the electrical braking system significantly reduces energy consumption. 
Indeed sustainability is a core value of PRASA's plans, with the enterprise stating its commitment not just to the financial 'bottom line', but to "environmental quality and social equity".  
Speaking at the new train design's unveiling in July, PRASA Group CEO Tshepo Lucky Montana heralded the latest stage of the project. 
He said: "It is running at full speed and we have successfully completed the first important milestone. We are very satisfied with the progress made and the results achieved, this train will become a national asset, which will satisfy the needs of our passengers and make them proud to use it."
Factory investment
Early next year, Gibela is to open a R1 billion factory in Dunnottar, Gauteng, to manufacture 580 of the trains domestically, which will create more than 33,000 direct and indirect jobs over 10 years, with Gibela training 19,500 young South Africans to perform the role effectively. Construction of the facility will start before the end of the year.
The entire project is geared towards PRASA's goal of revitalising South Africa's rail industry to the high and efficient standard demanded by a modern society, with safety and reliability high on the agenda, and responds with conviction to the country's growing commuter figures and the strain they place on the existing system. 
However, though huge in scale, this project with Gibela represents just half of PRASA's ambitious plans for South Africa. Its R123bn rolling stock programme is procuring some 7,224 new rolling stock over the next 20 years, with the second phase still to come as it promotes rail as the backbone of the public transport network. 
New and ambitious
It is the sort of vision that has characterised PRASA's work since it was formally established in December 2008 as an arm of the National Department of Transport. 
This act consolidated various South African transport entities including the urban commuter rail operator, Metrorail, regional and inner-city rail operator, Shosholoza Meyl and coach operator, Autopax. Investment company Intersite has also been included into the new entity PRASA, taking responsibility for PRASA's investment, while PRASA Corporate Real Estate Solutions (CRES) is responsible for its property portfolio. Finally, its technical arm, PRASA Technical, manages its rolling stock depots and workshops.
The new establishment aimed to promote efficiency, innovation and accountability in South Africa's faltering public transport system, fostering investment, addressing fragmentation issues and fulfilling the people's desire for greater mobilisation at an affordable price.
The move was also influenced at the time by the country's imminent hosting of the 2010 football World Cup, and the quality connectivity required by hosting a tournament on an international scale in various location across the country. Success in delivering this sporting event paved the way for the latest upgrades. 
Today, 76 percent of PRASA's 17,000 employees are still employed by Metrorail, and PRASA is aware that the dedication and expertise of its staff will be crucial in fulfilling its goal of providing South Africa with a world-class transport system that positively impacts on the entire country. 
It states on its website: "It's of vital importance to mobilise the energies of each employee in creating a railway service that forms an integral part of the renewal of the transport system and our society as a whole."
With the huge investment plans underway and the clear set of values upheld on the course of the rolling stock project, PRASA seems set to fulfil its vision to be the South Africa's Number One Public Transport Operator.