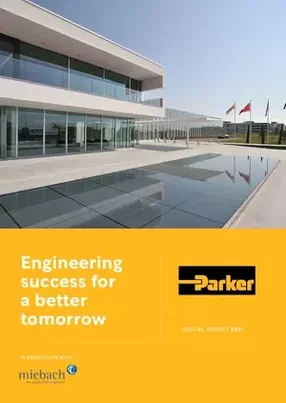 Parker Hannifin: Engineering success for a better tomorrow
The road to a perfect delivery is no deviations in the supply chain, according to Dirk Falkenreck, EMEA Distribution and Value Add Centre Manager
Albert Einstein was quoted as saying "Scientists investigate that which already is. Engineers create that which has never been." 
Creativity is certainly evident in the case of Parker Hannifin, the global leader in motion and control technologies. The company's 103-year history includes involvement in major engineering landmarks – from supplying the fuel system for the Spirit of St Louis to being involved in the recovery of Apollo 13. 
Originally founded by Arthur Parker building pneumatic brake systems in Cleveland, Ohio in 1917, Parker has consistently grown and diversified over the years. The business purpose focuses on 'enabling engineering breakthroughs that lead to a better tomorrow'. 
Over the years Parker Hannifin technologies has helped its customers conquer space, distance, time and motion - making life better for people around the world. And the founder's legacy of trust, empowerment and drive to serve customers is still felt within the global enterprise, which now employs more than 50,000 people, according to Dirk Falkenreck, Parker's EMEA Distribution and Value Add Centre Manager. 
Error-free supply chain with no deviations
Falkenreck manages the warehouse and logistics in Parker's EMEA operations, ensuring that each precision-engineered solution for commercial, mobile and industrial markets travels through the supply chain.
"The road to a perfect delivery is fast, error-free and inexpensive, with no supply chain deviations," said Falkenreck speaking from the regional distribution centre in Greater Bielefeld, Germany.
He highlights the importance of an effective process in warehouse distribution from handling, storage and shipping and how this enhances productivity - which is vital for the supply chain of Parker's products. 
The company started its journey to developing a lean warehouse 15 years ago, with an owned developed lean toolbox. 
The EMEA Distribution and Value Add Centre team manages:
10 warehouse locations across EMEA - from Norway and Finland, to Turkey and Africa

Received goods from more than 400 production plants worldwide

15,000 customer shipments each week

2.5 million orders every year.
Falkenreck explained: "Our distribution centre serves close to 15,000 external customers every week. We get products from our divisions - approximately 100 manufacturers in Europe – and store them here prior to distribution.
"My role is to support and lead the transformation of the distribution operations. We started this journey in 2002 - there was nothing before. Nearly 20 years on, we employ 250 people in 10 locations and deal with customers across the globe. 
 "The first phase of the transformation started in 2015, when we started to review the overall warehouse footprint in Europe. We created an EMEA supply chain team, responsible for managing all warehousing and distribution services.
"But what was next for distribution? The answer to that question was quite complex, so our team commissioned external support to conduct 'centre of gravity' studies", he said. "This process helped us to determine the best locations for warehouses, to optimise customer shipments. 
"Choosing the best locations means we can cut shipment times and costs and reduce emissions. This team is on target to reduce our carbon footprint by 20% by around 2025," Falkenreck continued.
Once Parker had a clear picture of the road forward, the company focused on three pillars to become the best in class distribution centre organisation. Parker has adopted the independent Warehouse Education and Research Council (WERC) benchmark for its warehouses globally. The WERC defines key processes and performance indicators for world-class organisations and Parker is focused on key elements such as:
1. Simplification of procedures and locations 
2. Technology and innovation
3. Customer experience
Falkenreck continued: "We want to work with our customers as closely as possible and be the best shipment provider. There are many tools and procedures developed to make sure we work in an integrated way to make that happen.
"For example, we use an extended value stream map to look at every dimension of a shipment. We start with physical elements, such as labelling, documentation and electronic data to see how information will be submitted to customers. We also analyse customer receiving processes, to identify any possible issues that may arise; this helps ensure that our process will help resolve potential blockages. 
"Our solutions can be customised according to customer needs. The real customer experience always comes if you exceed people's expectations. We often help people to develop solutions they haven't thought about; that creates a cost benefit for them, and an improved experience. Some customers just need us to comply; with others we can offer greater support and genuinely become better together."
Alongside customer experience, lean warehousing, new technology and digitalisation are fundamentals to Parker's approach. 
Lean warehousing systems
Lean tools make sure there are control points in the process and prevent failure or deviation. Employees play a key role in the lean journey, but tailored warehouse systems and process design are also important. 
Falkenreck explained: "By presenting material in an accessible way, our people don't need to spend time interpreting or guessing information; they can act quickly, efficiently and consistently. Structuring information in a way that supports natural processes takes account of potential variables, such as weight and dimensions," he said. This mistake-proofing approach minimises the likelihood of human error.
Parker is committed to achieving a 'zero incident' environment and keeping its people safe. Falkenreck continued: "We used to move materials with forklift and a driver, but now use automated guided vehicles (AGVs) in warehousing inboard areas. 
"Robotics technology has reduced people moving between functional areas, as well as improving safety. As some of our heavy products weigh more than 60 kilos, lifting and moving stock needs to be carefully managed.
With more than 100 shipping locations it is vital that logistics are seamlessly in place.
"The inbound process starts at the division manufacturing workbench," said Falkenreck. "From the manufacturing finish line, colleagues press a button and the system automatically notifies our distribution centre when the product will arrive." This ensures traceability and enables automation throughout the supply chain. 
Partnership power 
Miebach, PTA and LeanQuest are all partnering Parker Hannifin on its digital journey. This support has been helpful to inform investment choices, transform services and create leaner systems.
The company only partners with suppliers who share the beliefs of premier customer service, maintaining the highest quality standards, on-time delivery and a culture of continuous improvement. Parker views suppliers as partners who help the business remain competitive in the marketplace and achieve its growth objectives. "Having partners who share our goals to serve our customers well is key for us," commented Falkenreck.
Continuing the transformation journey
Commenting on Parker's advancements over the past decade, Falkenreck said it was amazing how the company had evolved. He predicts that future workplaces will be characterised by two segments. 
"One part of the process becomes simpler, as robots take over some of the work; but others will become more complex, because you have to manage far more sophisticated systems. This means companies need engineers in place to understand what AI is doing, configure systems and adjust service flexibility aligned to customer needs. Lean operations will remain critical for our team – with the scope to layer technology on top as services and business confidence increase."
"We are very proud of our journey over the past 10 years and the strong partnerships with customers. But there's more to come, which is exciting. We plan to review our manufacturing locations and redesign inventory flow for the complete products. It's a major shift, but the right thing to do. This work will help us achieve even greater logistics efficiency and reduce emissions," he said.