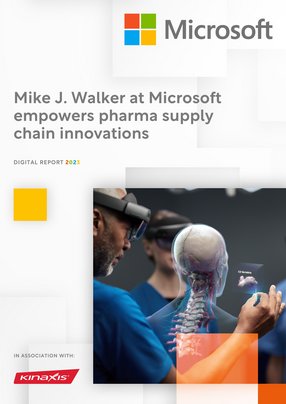 Microsoft empowers pharma supply chain innovation
Mike J. Walker heads up Microsoft's life sciences supply chain practice, and explains why industry advisory drives business value
Supply chain is a complicated industry that typically requires highly trained engineers to oversee, but pharmaceutical (pharma) supply chains take complexity to another level.
As well as the usual litany of supply challenges, pharma has distinct requirements on the handling of materials like a cold chain element, and also faces the perils of product recalls and compliance issues, because the field of medicine is just about the most regulated sector there is.
And then of course there's the added pressure of how catastrophic any delays might prove, because the medicines being shipped are critical for ensuring patients have access to the medicines they need to maintain their health, or even keep them alive.
While there is a variety of permutations, the most prevalent today is the small molecule pharma supply chain. This chemical-based drug will typically begin with the sourcing of raw materials – active pharmaceutical ingredients – used to manufacture drugs. The manufacturing process involves several stages: formulation, quality control, packaging and labelling. Once the drugs are ready, they are shipped to warehouses or distribution centres, from where they are distributed to healthcare providers, pharmacies, and hospitals.
For other forms like biologics or vaccines the supply chain is required to keep these volatile medicines stored at the right temperature and humidity, and with tracking shipments to prevent counterfeiting and diversion.
To address such challenges, pharma companies are adopting digital technologies such as cloud, blockchain, artificial intelligence, and the Internet of Things (IoT) to enhance transparency, traceability, and efficiency in their supply chains.
One company that is helping pharma firms digitally transform operations is Microsoft, and at the forefront of its offerings is Mike J. Walker, Executive Director, Strategy, Health & Life Sciences.
In his role Walker is the strategy leader for Microsoft's supply chain and manufacturing point of view on pharmaceuticals, med-tech and biopharmaceuticals.
"My role is about being a trusted business advisor to empower our top global customers with expertise and proven practices to accelerate their digital strategy," he says. "Ensuring that these conversations are business-led with a keen understanding of the pharma business along with the external market risks . As with all industries, technology is always part of that conversation, but the key is to ensure that those technology conversations are focused on how strategically relevant they are to your businesses long-term goals. Once we know that, we can have a conversation on how to maximise value potential of those technologies. That is what really matters for my client's executive teams."
Typically, Walker partners with "decision-makers" – C-suiters both on the business and technical sides of pharma organisations.
The most challenging aspect of the role, he says, is "the pace and the sheer amount of change happening". He adds: "When you peel back the onion you find each has subtly different business drivers, different cultures, different personalities, and leadership styles. It requires you to employ a level of emotional intelligence to your approach. 'This is the right answer' is something that never flies.
"Instead, provide the executive with a framework to work within and let them drive the conversations based on the guided journey and lots of questions. I am there to shepherd them through proven practices, almost like a counsellor, only without the couch."
Another challenge stems from the nature of the pharma industry itself.
Walker says: "What most needs changing in pharma supply chains is the legacy mindset and a culture of risk aversion. These organisations fall into the trap of thinking they can't do something because they've always done it that way. With this mindset they don't ask the right questions."
Questions, he says, such as: How do we create this experience within the bounds of the rules? Will the market dynamics change that would make this a viable solution? What is the level of risk tolerance we are willing to take? How can we partner with the regulatory bodies to influence change?
On the latter point, Walker says that, in his experience, regulatory bodies like the FDA are "very willing to hear you out if you've got a compelling approach to solving industry challenges".
As for barriers to digital transformation, Walker says that here things are playing out just as they have in other sectors.
"I see lots of barriers other industries have gone through and have overcome," he says. "It just takes time. The nice part of having a cross-industry background is I've seen how other supply chain organisations have dealt with this level of change."
This is why Walker likes to take biopharma clients to visit Microsoft customers in other fields, such as consumer goods. He has also taken them on visits to brewing giant ABinBev Anheuser-Busch.
"Brewing beer is very similar to what a biologics organisation does," he explains, "so showing them what is possible in a less complex environment is a worthwhile thing to do."
Technology obsolescence is another hurdle, 65% of manufacturing environments run outdated operating systems, he says.
"Even though the intent is to update technology and software, if you've got manufacturing equipment running Windows XP on devices supporting your biologics manufacturing lines, you can't just shut it down and replace it because that could impact the entire batch worth millions of dollars."
He adds that from a strategy perspective the challenge is "to not only fix the current problem but to create an evergreen model that prevents obsolesce from happening to begin with".
Of course, some of the barriers to transformation in pharma differ to other sectors, particularly around regulation. The FDA's Drug Supply Chain Security Act (DSCSA), a single federal framework for tracing prescription medications through the supply chain, is challenging the pharmaceutical sector to reach data transaction targets by November 2023.
"There is much less scrutiny on manufacturing a beer versus a vaccine," says Walker. "Medicine is treated very differently not only from a supply chain perspective but also from a manufacturing and a sourcing perspective."
He adds: "The entire supply chain looks a little bit different, and the regulatory environment is unique. In an automotive company's supply chain, for example, they don't necessarily have to tell a regulatory body the specific specs of the machines that they will use to make that product."
And of course, like all businesses across all sectors, pharma organisations are getting hit from all sides. There's a rising need to be more sustainable, materials cost more, increased energy costs – especially in Europe – which drives the impetus to do more with less cost. They're also getting hit from a geopolitical perspective, like the war in Ukraine but also, says Walker, economically from a global trade and tax perspective.
"In China for example, there is an increase in operating costs of doing business in China, especially for manufacturers with aspects like minimum wage increasing between 30% and 65% in recent years. Tax rates are also higher across the board due to a unified corporate tax, and with China's new cybersecurity and privacy regulations, they have the potential to transform how pharma companies conduct business in China. The most pressing question I hear from pharma executives is, should we stay or should we go."
Walker also points out that the pharma industry is being disrupted by smaller biotech firms, along with tech-savvy companies. He likens what's happening here to how Uber and Lyft have changed the taxi business.
"It's the same in the pharma industry, where you've got countless small biopharmas that from an R&D perspective are pumping out way more patents than the traditional players.
"A lot of that has to do with their ability to be nimble and they also leverage technology at its fullest. With the bigger organisations you've got a big ship to turn, and you've got a lot of moving pieces."
Technology is vital, but Walker says it is "always a conversation I have later in the relationship". But it is very much a conversation that needs to be had, because many supply chains as they stand are simply ill-suited to being digitally transformed.
"Supply chains can be very linear," he says. "The connections between the ecosystem of partners can be brittle and fragile, and there is a growing need to make sure supply chains are modular, dynamic, and provide transparency across the entire value chain – and you can't do that in a sequential, linear, compartmentalised way with technology."
He adds: "You have to do it in a way now that is much more decentralised than what it was before. There's a significant amount of processes around reconciliation of data that is introduced because of that."
Walker observes that this requires "an ecosystem approach" – supported by a common "data fabric" that allows organisations to digitise their supply chains in a meaningful way.
On this note, Walker has partnered with Kinaxis, a 'visionary leader in supply chain' solutions, according to analyst firm, Gartner.
Walker believes that leveraging the power of the Microsoft Azure cloud platform together with Kinaxis' solutions will provide pharma organisations with an agile and autonomous supply chain platform, which are essential in today's rapidly changing business environment.
He says: "This combination of capabilities enables a digital ecosystem platform for pharma supply chains that uses advanced analytics and artificial intelligence to analyse data from across the supply chain, including suppliers, customers, and internal systems.
"It can also integrate with other systems, such as ERPs, MES, CRMs, and logistics systems, to provide a comprehensive view of the entire supply chain.
Walker recounts a past conversation he had with a pharma company.
"They were talking about how one of their key priorities is to digitise all instances of paper use," he says. "On the surface I couldn't disagree with that.
"But I asked if this meant putting scanners into their factories at each process-step. to make sure that all paper was scanned, and then entered into a document management system.
"Then I asked if they wanted instead to solve the root problem, which was fundamentally how to reinvent the business process and how data is handled." This, he says, requires a rethink of the organisations' relationship with data and the tools that manage it.
Walker says he knows of pharma organisations that are leveraging digital twins for an end-to-end view of their supply chain. But does this tick all the boxes that need to be ticked, even? Probably not, he feels.
"When you look at these digital twins there's different levels and types. You have layers of digital twins that coexist within an organisation. Some represent the asset itself. Some represent the people and the interaction. Some represent the process, and others represent the facility, or the entire supply chain. "
Walker says that what is needed, and often lacking, is a strategy around creating "a common data platform that is able to create digital threads to connect all of this data", and "a full genealogy of everything that was involved in the creation of all these layers of digital twins".
What makes Microsoft unique is our commitment to industry specific standards and communities, such as the Open Manufacturing Platform, the OPC Foundation, the Digital Twins Consortium, and our innovative partner ecosystem, coupled with composable and extensible solutions that seamlessly connect people, assets, workflows, and businesses processes. Our technology is giving businesses more intelligence and visibility than ever before and making operations more adaptable.
Looking at the bigger geopolitical picture, Walker says pharma companies are changing the shape of their businesses, by stepping away from globalisation.
"I've heard from four very senior executives in the pharma supply chain that globalisation as an approach is dead," he says. "Now it's more about de-globalisation and modularity. Many of my customers are creating an ecosystem of ecosystems strategy whereby they are regional ecosystem hubs that serve specific markets. However, each one of these is still loosely connected and provides a level of autonomy but also flexibility."
Walker references McDonalds here because "they solved this problem in the fifties with the franchise model".
He adds: "Why make every one of your factories unique and bespoke when you can create a franchise model that provides speed, modularity, and flexibility through a common set of methods and standards? For example, maybe it would be possible to take an oral solid dose drug and make the manufacturing and supply chain 90% standard across all applicable factories.
"This also gives you a level of nimbleness and agility in the marketplace that you won't have in linear supply chains with bespoke factories."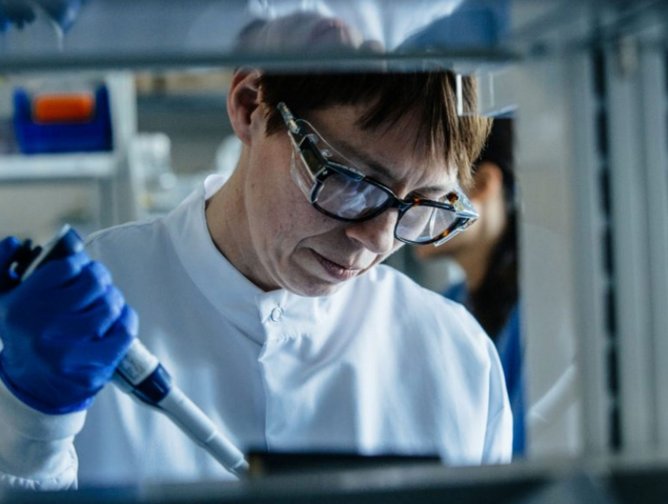 Microsoft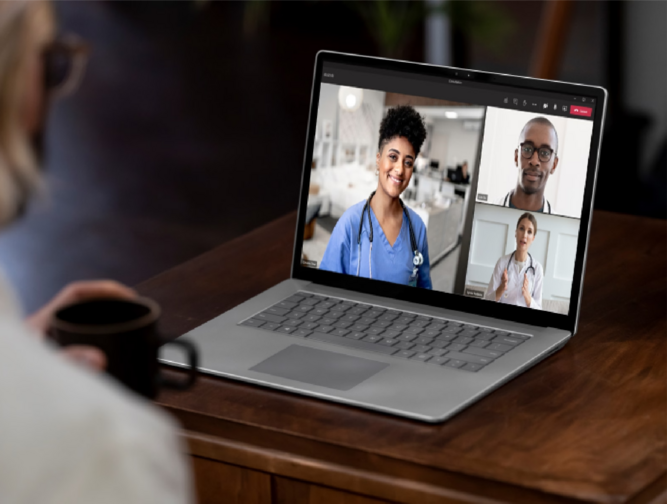 Microsoft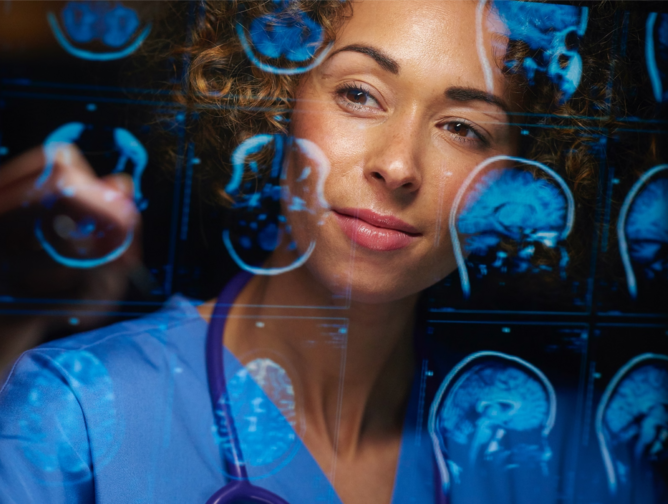 Microsoft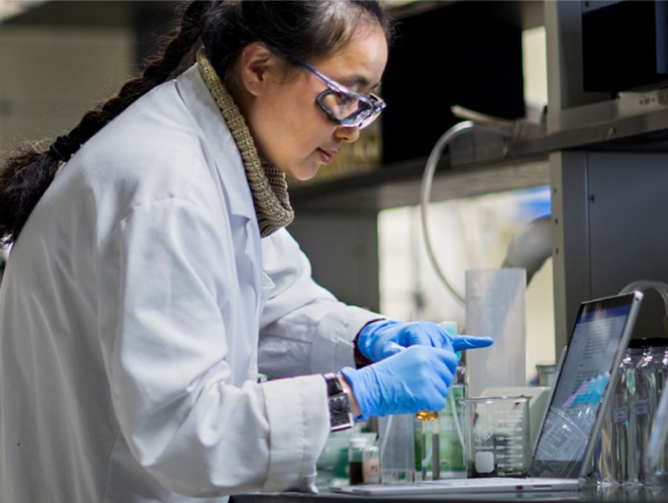 Microsoft