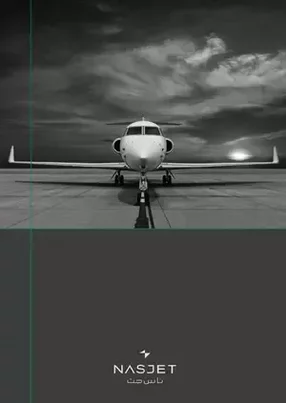 Innovative and creative aviation solutions with NasJet
Offering key solutions in the Saudi Arabia aviation space...
Since 2004, Chief Commercial Officer Yosef Hafiz has worked for NasJet, with a key focus on sales and innovation. Graduating from Purdue University with a master's degree in mechanical engineering has bolstered Hafiz's expertise and passion within aviation, obtaining responsibility for four main areas of NasJet's corporate operations; customer service, business development, sales and marketing. Since 1999, the company has become renowned for its first-class service, catering to a wide range of clientele, from royal family members and different governmental organisations within Saudi Arabia, to private companies and ultra-high net worth individuals.
Providing a range of corporate aviation services and solutions, the company operates six different types of aircraft which are situated in the company's diverse fleet, such as the Hawker, Falcon and Airbus Corporate Jets. "There is variety here and different types of manufactured aircraft, which we are able to operate which gives us our strength, from the larger sizes like the Boeing Business Jets (BBJs), down to the smaller aircrafts like the Cessna Aircraft", comments Hafiz. Over the years the company has significantly expanded its range of aircraft and management services, incorporating over a thousand in-house aviation experts, becoming the largest Gulfstream operator in the Middle East. The company has recently added a GulfStream IV and Legacy 600 to its fleet, further increasing the variety of aircraft.
Key features such as safety, security, privacy, reliability and flexibility are all parts of the high-quality service which NasJet offers to clientele, but the company is continually seeking new ways to attract further markets. It delivers flexible solutions and adaptable itineraries for clients, in addition to key flight support and high quality maintenance services. Hafiz explains: "NasJet offers several solutions; either the individual or company buys from us on an ad-hoc basis, charter flights, or they purchase with us block hours where they buy in bulk, such as 100-200 hours, however much time which will meet the clients' needs throughout the year."
The company has also recently updated its website and is actively marketing its Empty Legs to the local aviation community, with the aim to expand operations through several service solutions. "One of the services which we are expanding into is offering flight support solutions with people who own their aircraft and don't want to have us manage it, but they want us to run the flight plans and do all the work for them behind the scenes when they request a flight", adds Hafiz. A second service the company is also offering is crew support, where an owner of an aircraft is in need of a pilot, flight attendant or mechanic, increasing their support services further.
Since the change in General Authority Civil Aviation regulations (GACAR) from March 2016, NasJet has published several articles in local newspapers and on the company website to issue guidance, information and support, tailoring services to support the local community. Aircraft owners within Saudi Arabia have been informed that they must obtain an Air Operator Certificate (AOC) in order to retain access in undertaking commercial activity. In order to remain compliant, owners must submit comprehensive plans and manuals by March 2017, stating whether they plan to operate their aircraft privately and apply for their own AOC, or whether they wish to utilise services such as NasJet's, who have become the first private aviation company within the region to be granted an AOC and offer this service to clients.
Hafiz explains that the GACAR has issued two different types of AOC, private and commercial: "Private AOC means that it is purely private, meaning clients are not going to charter the airplane and they are not going to offer it up for sale or for charter flights. If the individual or company joins a commercial AOC, which is one of the solutions which NasJet offers as an addition to the private AOC, then they are able to actively market their aircraft for sale, or charter it."
In order to remain ahead of the competition, collaboration and continual communication is an essential part of NasJet's success. Individuals who wish to purchase a new aircraft are provided a one-to-one relationship with a sales individual at NasJet, who in turn manages the transaction and portfolio of that client. Hafiz explains: "It's a direct relationship between the NasJet sales agent and the ultra-high net worth individual or company that we're serving". In addition, the company has a long-term partnership with the Jet Business in London, who supports NasJet in sourcing appropriate aircrafts for individuals in Saudi Arabia, alongside partnerships with ExecuJet and LuxAviation Group, who house a combined fleet of over 250 business jets.
Despite its consistent success, the company's increased growth and focus on providing innovative solutions has not been without its challenges. With reduced spending from local governments, Hafiz explains: "It is very important for the company to continue to think of innovative and creative ways of selling aircrafts, looking into new business ventures and ways to maintain our existing clients". However, the company has provided a groundwork for further private aviation companies in the region since its establishment 17 years ago. Hafiz comments: "NasJet has always been the founding company for other companies that have begun here in Saudi Arabia. A lot of our ex-employees have joined those organisations or created those other organisations", providing a benchmark of what private aviation companies can and should be.
NasJet showcases several strengths, especially where other competing operators do not yet offer the ability for aircraft owners to operate on four different aircraft commercially. NasJet is able to operate Saudi Arabia registered aircraft (prefix - HZ), US registered aircraft (prefix - N), Cayman Islands aircraft (prefix - VP-C) and San Marino aircraft (prefix -T7) commercially. Hafiz explains: "That's something that other operators in the middle east don't yet have, which NasJet really has its strengths. It gives our clients the ability to register their aircraft in different states and countries of registration and gives them options", at which the company will develop their existing services and continue to provide high quality solutions for clients within Saudi Arabia.