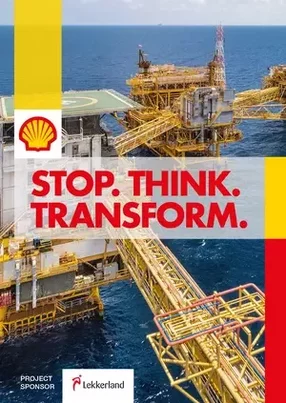 How Shell executed its supply chain transformation
We reach back to 2005, when Shell began a huge supply chain transformation. How far has the company come...
"More upstream, profitable downstream". In 2005, Shell used this mantra to distil its new strategy. With upstream initiatives, the energy and petrochemicals group searches and recovers oil and gas. Shell develops the way it refines and delivers products to customers via its downstream initiative. In short, Shell's mantra means that if it boosts production, its income from refining will also go up.
A supply chain transformation was key to realising this strategy. As a result, Shell restructured its supply chain, with various end goals. These include standardising practises and technologies, generating stable cash flows and putting demand-driven best practices front and centre of operations.
12 years on from the new strategy launch, and Shell considers the supply chain transformation a success. It's ready for the next step, i.e. transferring the new strategy to its operations in emerging markets, namely Asia. Shell's transformation journey has been long, but it can be broken down into distinct parts:
3PL to 4PL
Before 2005, Shell was using third party logistics (3PL) to buy products. However, this meant that it lacked command of the procurement process. Shell collaborated with Accenture to build a fourth party logistics operation (4PL), which Shell calls Logistics Management Services (LMS).  LMS supports Shell's upstream operations, covering production, wells and projects. It is also a single-client platform, which provides a Shell-tailored solution. Furthermore, Shell is able to maintain close control of the outsource provider. It is able to build long-term strategic relationships with the provider, granting access to the provider's best people, technology and innovation. Ultimately, by losing its old practice and negotiating with Accenture, Shell was able to take back control of the business.
Lekkerland
Lekkerland had been the supplier of many Shell filling station shops in the past already. As a result of the transformation, in 2007 Shell closed a framework contract with the German-based company as their wholesale and logistics partner in several European countries.. Almost ten years later, Shell and Lekkerland have now signed a new international framework agreement for six countries that includes supplying more than 2,500 filling stations across Europe.
Lekkerland delivers food, tobacco, and non-food products to Shell's stores with the same quality standards throughout Europe. Depending on the country, Lekkerland also provides support on matters such as category management and the further development of the food service offering.
"We are very delighted that our long-term partner Shell continues to place its absolute trust in us," said Patrick Steppe, Chief Executive Officer of Lekkerland AG & Co. KG. On an international level, Shell is one of the largest customers of the 360-degree full-service concept providers for on-the-go consumption.
Technology
Shell adopted an SAP and APO sales system as its single platform for supply chain planning. For its lubricants business, Shell worked with supply chain company E2open.  E2open provided Shell with Demand Sensing (DS) and Multi-Enterprise Inventory Optimisation (MIO), the former able to adapt to shifts in consumer behaviour and market influences. From this, it produces the most likely prediction of future short-term demand. On the other hand, MIO uses advanced mathematics and daily granularity to produce more informed inventory targets. These targets mirror real-world market conditions, even in volatile markets. Combined, the solutions allow Shell to improve forecast accuracy. Excess inventory has been reduced, which has in turn improved working capital use and free cash flow.
By using a single-instance ERP system, Shell was able to globally implement DS and MIO relatively quickly. This change had significant results. The majority of Shell's finished product portfolio is now demand sense, while users can go about their daily and weekly planning tasks without disruption.
Supplier Collaboration
Improving relationships with suppliers was a key aspect of Shell's transformation plan. Shell works with a wide variety of suppliers, from household names such as Mars to local suppliers. In order to get the most out of relationships with these firms, Shell now holds comprehensive internal reviews on how to improve current situations. Additionally, the company developed the Shell Diverse Supplier Pipeline Management System in 2014. The programme aims to make sourcing easier and more transparent for ethnic minority and female-owned businesses and smaller potential suppliers. If a supplier meets Shell's procurement needs, the system records basic details about the supplier into the Supplier Pipeline database and sends the potential vendor a link to add more information. This technology also tracks the progress made by diverse businesses introduced to Shell stakeholders.
Prelude FLNG, a floating liquefied natural gas platform in Australia, provides a modern example of Shell building effective relations with suppliers. Shell built effective bonds with main contractors to design and build this ground-breaking project.
Through its transformation, Shell has proven how important supply chain is to wider company changes. By restructuring its supply chain, it has been able to demonstrate "more upstream, profitable downstream" in action. The company has modified its supply chain in several key areas, and thus primed it to make huge strides in Asia and beyond.