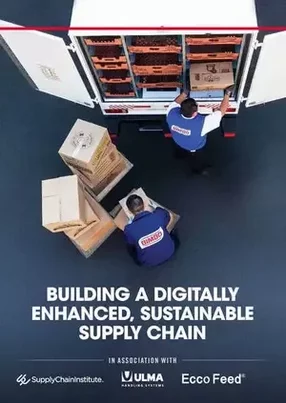 Grupo Bimbo: a digitally led, supply chain transformation
With the aim to transform the baking industry and expand its global presence, Grupo Bimbo has transformed its service offerings, with sustainability at...
Building a global presence across more than 30 countries is no easy feat, particularly for those occupying the competitive food and beverage industry. Evolving consumer demands, changing government regulations and the emergence of new technologies are disrupting traditional business models, where the need to become increasingly sustainable has impacted the way in which consumers interact and engage with brands.
Undergoing exponential growth in recent years, reaching US$15bn in sales, food and beverage giant Grupo Bimbo's fresh, appetizing products continue to reach millions of retail outlets. An icon across the United States and Mexico with more than 100 brands under its umbrella, such as Bimbo, Marinela, Arnold and Oroweat, it houses one of the largest direct distribution networks in the world, as well as one of the largest fleets in the Americas. Producing more than 13,000 products for its growing customer base, such high demand has placed considerable challenges across its supply chain, where speed, execution and exceptional planning have become increasingly vital.
With sustainability firmly at its core, Grupo Bimbo has sought to ensure high quality products, focusing on a number of key areas as it undergoes a significant transformation. From ethics and compliance, corporate citizenship and responsibility, to governance, leadership and innovation, the business has worked hard to remain the number one choice for consumers worldwide. Recently recognized as one of the World's Most Ethical Companies by the Ethisphere Institute, South America Logistics Regional Director, Jordi Rodriguez Pauli has accelerated Grupo Bimbo's growth in LatAm, where he has sought to enhance its supply chain logistics capabilities and raise the bar to drive the chain's professionalization.
"I am leading the transformation of our logistics operations in regards to greater visibility, standardization and technology process planning," he explains. "From Chile, where we're based, we coordinate and work, along with the five organizations in Chile, Perú, Argentina, Uruguay, and Paraguay, to ensure the accomplishment of Grupo Bimbo's mission in the most effective way. We're always striving to provide the right level of service, at the lowest cost, without jeopardizing safety, environmental aspects and quality."
To cater to evolving consumer preferences within the food and beverage space, Rodriguez Pauli states that the daily delivery to retail outlets and satisfying increased demand continues to be the main objective of the business' supply chain operations. "Grupo Bimbo is a company that's increasingly global, and with the purchase of other companies, the goal business model has been strengthened," he adds.
Following a number of acquisitions, with Chile-based cakes, cookies and brownies manufacturer Alimentos Nutra Bien and Chinese confectionary company Mankattan to name a few, Grupo Bimbo has extensive plans to further its distribution reach. Adapting its network to reflect the current market and the reality of each country in which it operates, for South America, Rodriguez Pauli confirms that the company is in the process of revising its master footprint. Once finalized, the business will seek to bolster the subsequent creation of international networks which will support the trading of products between countries, which will no doubt benefit from what the company has to offer.
2020 Vision
Most importantly for Grupo Bimbo, its renewable 2020 vision has seen the business become the first across Mexico and Latin America to join the RE100. With plans to harness 100% of renewable energy across its US operations by 2020, and then globally by 2025, every facet of Grupo Bimbo is undergoing a significant internal, and external transformation. "We will use various schemes, such as Power Purchase Agreements (PPA), the purchasing of Renewable Energy Certificates (REC or GO), distributed generation (on site), or clean energy directly. The electric plant in Piedra Larga in Mexico is one example of our efforts," states Rodriguez.
"As a socially responsible company, we are also aware of the environmental effects of plastic waste. Producing more than 49 packages every day, our package management strategy comprises different actions which include the reduction in plastic, as well as the adoption of recyclable materials across the whole value chain." Additionally, as more and more Sales Centers at Grupo Bimbo become increasingly sustainable, the business has sought to reduce its consumption and waste further.
Identifying opportunities
Throughout the transformation of its supply chain capabilities, however, Rodriguez Pauli explains that it is essential for the Grupo Bimbo to refocus its resources, analyze data more effectively, and gain a greater understanding of value-added opportunities to drive further growth. Its extensive portfolio, focus on talent and geographic range have all filtered into its purpose to be a sustainable, highly productive, and what Rodriguez Pauli coins "a deeply humane company".
"The management style has to change towards big data and will enable us to identify and boost talent. This transformation has begun in South Latam. We've been the first ones, and we, along with the HQ in Mexico, are defining the new way of operating and the new standards," observes Rodriguez Pauli. "Like any change, it's not easy, but for our part, we're very happy to contribute first-hand to this transformation. It allows us to be innovative and disruptive, which is something we pursue."
However, with such internal disruption, change management has also played a key part in the delivery of exceptional products and services at Grupo Bimbo. Providing further opportunities for professional development and highlighting the importance of collaboration, the business has sought to retain exceptional talent in order to continue on its upward trajectory and take advantage of various trends in the market.
"In terms of our logistics, we need talent that leads the change and challenges the status quo to keep improving. For that, we have important talent mechanisms of attraction and retention of talent, with many possibilities of international development," says Rodriguez Pauli.
"We're also migrating towards a more ideal fleet management model," he adds. "In the entire region, we're making an effort to optimize transportation, and in Chile we´re studying options to make it more sustainable and efficient. The world is changing quickly in terms of access to market, digitalization and information. We are already migrating toward actions that help us compete in these terms."
It is clear that technology will continue to set the tone and add further value across the supply chain at Grupo Bimbo. By reshaping its distribution networks, investing in exceptional enterprise resource planning (ERP) software and onboarding new digital applications, such as Oracle Cloud, productivity levels are set to rise and deliver a number of advantages which are transversal and will deliver optimum efficiency. "We must be completely open to thinking differently and looking for different ways of distribution. Oracle Cloud and its tool pack will help us become a company that's quicker and more flexible to adapt to the market's needs," affirms Rodriguez Pauli.
"Words like AI, IoT and Cloud are a reality at Grupo Bimbo. There's a lot to do and learn, but we're moving ahead. With IoT, we're linking many of our production lines; through AI, we're improving our demand plans and forecasts; and Cloud is becoming our platform for digitalizing the whole chain." Successfully adopting Cloud and an advanced logistics suite, along with tools from Logfire and Oracle Transportation Management will also deliver further traceability, enable Grupo Bimbo to modify processes, and will improve decision-making which will positively impact its customers.
Digitalization will remain at the forefront of Grupo Bimbo's ongoing transformation. Housing a supply chain that is aiming to climb in the Gartner rankings across the world, to the company will look to unlock increased efficiency and drive further value across its processes to ensure its position in the market.
The company is expanding very quickly, acquiring businesses that are totally new and branched. I'm sure this trend will keep on improving Bimbo's business structure," notes Rodriguez Pauli. "We have a great supply chain, with great products and relatively short life cycles that reach millions of retail outlets on a daily basis. I think our chain is one of the most exciting ones globally, and every day, we work to improve it and make it more efficient."