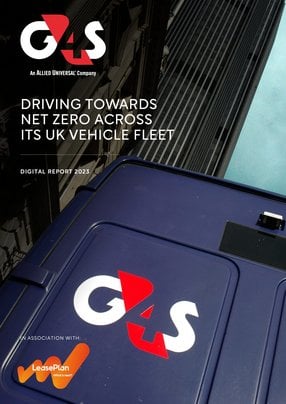 G4S driving towards net zero across its UK vehicle fleet
G4S is one of the world's largest security companies. Chief Procurement Officer Jon Willescroft is tasked with achieving net zero in its huge vehicle fleet
Delivering a nationwide sustainable-fleet programme is a huge undertaking at the best of times, but doing so in the teeth of seemingly never-ending automotive supply chain issues makes the challenge even more daunting.
To stay on course with sustainability targets, despite such difficulties, would be beyond some businesses, but this is exactly what the multinational security company G4S has achieved.
G4S is part of Allied Universal and is a security and facility services company that provides integrated security solutions that allow clients to focus on their core business.
Globally, G4S spends over a billion dollars a year with suppliers and subcontractors, and overseeing all of this is Chief Procurement Officer Jon Willescroft, who manages 150 procurement people across the globe
A key area for Willescroft and his team right now is sustainability.
"Sustainability is a broad subject," he says, "and you have to prioritise. I have top-down support from the executive committee, who align the procurement sustainability objectives with the corporate ones."
In this way, the areas Willescroft agrees upon with the executive committee "become our absolute focus".
G4S is taking big strides in its global 2050 net-zero commitment, and procurement is at the heart of the eco-driving programme.
At present, in the United Kingdom and Ireland (UK&I), an important focus of sustainability efforts centre around the decarbonisation of the company's vehicle fleet.
Willescroft says: "We've made great progress in the last year with our fleet decarbonisation. More than three-quarters of our new vehicle orders have been low-emission vehicles."
G4S' renewal programme around its vehicle fleet is ambitious. To help it decarbonise its car and light-commercial vehicle fleet, it turned in 2021 to global fleet leasing company LeasePlan, which is helping G4S UK&I decarbonise its fleet, while also working with it on using technology to drive cost savings.
Globally, G4S has about 15,000 vehicles. These include motorcycles and passenger cars, commercial vehicles and heavy-armoured vehicles for the cash business. It has around 2,500 in the UK and Ireland, of which roughly 1,600 are cars and commercial vehicles, and it is these vehicles LeasePlan and G4S are initially prioritising to make carbon neutral.
Under targets set out in its Road to Zero strategy, G4S aims to have all its passenger cars zero carbon by 2030, followed by light commercial vehicles in 2035 and its entire fleet by 2040. It is also making use of telematics and fleet management tools to optimise operations and improve safety.
But in the face of ongoing supply chain issues in the automotive industry – caused by the global shortage of microchips – progress has been far from straightforward; G4S has been unable to freely move employees into more carbon-friendly vehicles as quickly as it would like, because the supply has not been there.
Most of the company's operational fleet is low- to mid-range vehicles but on the company car side, it also uses mid-range to premium vehicles.
"I don't think there's been a single car manufacturer that has escaped supply chain issues and labour shortages," says Willescroft. "We're regularly facing a 12-month lead time on new vehicles."
"With crisis after crisis hitting the automotive industry, we could easily have been blown off course in terms of timelines. If we had allowed chip shortages and supply chain disruption to impact us fully then this would have put us back by a year or two. It's a change programme. You're trying to push people and create momentum, and momentum is stopped in its tracks if you are waiting 12 to 15 months for a vehicle. But we've managed to keep on track with our targets."
That it is still on track is thanks in no small part to LeasePlan, which has worked with G4S on creative ways to skirt supply challenges. Chief among them is LeasePlan's strategy of buying available hybrid and all-electric vehicle stock, leasing them to G4S on short-term contracts of between three and nine months.
"More than three-quarters of the new cars we ordered last year were low-emission vehicles," says Willescroft. "This is around 450 vehicles and is a really big step up from where we were before. This alone removes over 1,000 tonnes of carbon from the environment."
Willescroft himself moved to a leased electric vehicle while he was waiting for his Tesla company car. "By 2025, we want 40% of our passenger cars to have zero carbon emissions, and all of them by 2030."
By 2040, G4S wants its entire UK fleet to be zero carbon – this target could prove to be the most technically challenging, because the remainder of the fleet will be its heavy armoured vehicles, which are used for cash protection.
"Cars are becoming easier with regards to the net-zero journey," says Willescroft, "but heavy vehicles are harder to electrify because the technology just isn't there at the moment to give you the battery range.
"The expectation is that, over the next five-to-ten years, we'll see continuing advancements around battery range, which will allow us to invest more in the electrification of our heavier vehicles. But we're absolutely fixed on achieving these targets."
On that note, he adds that G4S UK&I has a number of trials ongoing with some of its smaller cash-vehicles – mostly Transit vans that have been fully electrified. "We're kind of testing and learning as we go on that," he says.
As with any change, taking people along with you is vitally important, and Willescroft says LeasePlan has helped here, too, ensuring that G4S people transitioning to EV and hybrid cars have all the support they need.
"That's been really important, both in terms of the speed of migrating to low-emission vehicles, but also people getting excited by it and being able to create a narrative around successes. We want to create passion around the change, because passion is what makes for change ambassadors, who can help with making the transition process as quick and painless as possible."
In terms of collaborating with an ecosystem of businesses to meet its sustainability targets, Willescroft says: "You need partners who are flexible and understand your business, trying to problem-solve and help you achieve your outcomes, as opposed to a one-size-fixes-all offering."
G4S is making greater headway on fleet decarbonisation in the UK&I than it is in any other territory, although similar programmes are underway in the Netherlands, Denmark, and Belgium. But he also says that, in UK&I, there is "greater customer expectation around sustainability than in many other markets".
Other factors that are currently limiting progress on EVs in some territories are a lack of charging infrastructure alongside the many governments' not yet incentivising businesses to embrace sustainability in the same way as in UK&I, where there are tax breaks around EV initiatives. Plus, says Willescroft, in some countries such as South Africa, coal is still being burned to create the electricity needed for EVs.
"In which case you're not really achieving much by electrifying your fleet," he points out. "There's an awful lot of factors that make fleet decarbonisation complicated, and there's no doubt the easier markets right now are UK&I and Europe."
"We've got a really clear fleet strategy in UK&I," he says. "It's been approved across the region and it's also something our customers really care about. It's the right thing to do as a business; it's the responsible thing, and customers want us to do it."
He adds that legislation around sustainability is also getting stronger all the time. "You won't be able to buy a new diesel or petrol vehicle after 2030 in the UK, so it's a perfect storm of reasons to do it anyway."
Yet, despite this, Willescroft admits that rampant huge fuel inflation across all markets, and a year-on-year increase in the cost of vehicles "has produced a tension between cost and the speed at which we can roll out our net zero strategy in the UK".
As well as Government tax incentives, the company is striving to get as close to cost-neutral as possible. "We buy a lot of vehicles, so we leverage this with OEMs and manufacturers," says Willescroft. "We also make sure we're looking at the total cost of ownership of vehicles, rather than just the lease price.
"This helps us be more creative in terms of what we can provide but, ultimately, however you cut it, there'll be a net increase in fleet costs. You can't really escape that."
Although squarely focused right now on UK&I, Willescroft and his team are acutely mindful of G4S's global net zero targets, which is why it has relationships with companies similar to LeasePlan across its territories.
"We've got partners in each market that we'll look to lean on in the same way when the time comes," he explains. "We'll look to leverage our experience in the UK, so we're not recreating it each time we're using the playbook."
On the broader question of sustainability Willescroft says he has "strong, top-down sponsorship from the board, whether it be net zero, diversity, or human-rights risks. Sustainability is about far more than net zero"
With sustainability and ESG initiatives Willescroft says embedding is key. "How do we do that? By making sure that, at a functional level, ESG and sustainability are a core part of how we are measured and how our objectives are measured. This way, everything flows all the way down to individual objectives."
"Over the coming year, everyone has targeted individual measures that are not only around commercial delivery, but are also really clear on ESG and sustainability objectives. This means sustainability topics are standing-agenda items every time we engage with the business. Every time we sit down and review performance with the business units or talk about sourcing, deals, or supply management performance, then sustainability is a core part of that."
Only by constantly talking about sustainability and ESG does Willescroft believe you can fully embed them into a business.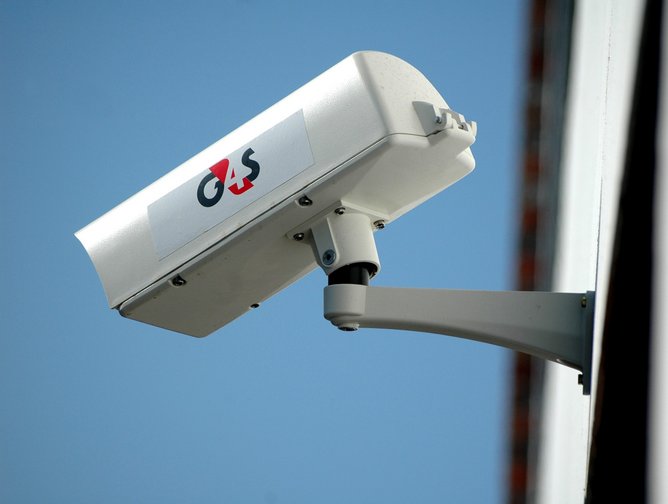 G4S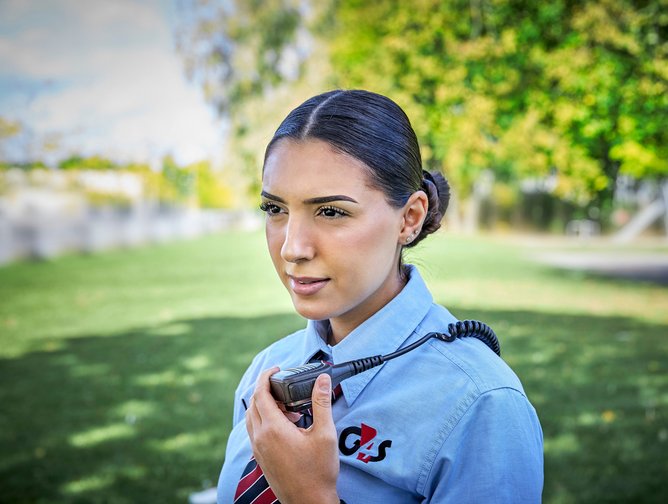 G4S
G4S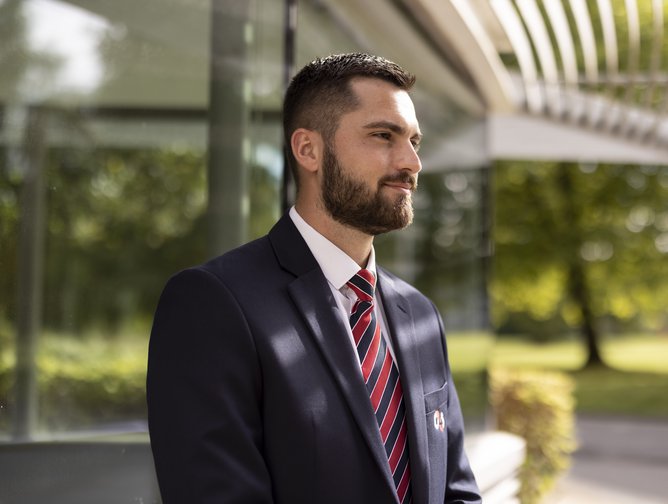 G4S