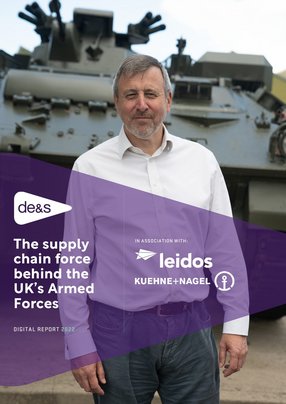 DE&S: The supply chain force behind the UK's Armed Forces
Roger West, Logistics and Support Director at Defence, Equipment & Support at the UK Ministry of Defence on delivering the force behind the Armed Forces
Describing itself as the force behind the Armed Forces in the UK, Defence Equipment & Support (DE&S) is responsible for sourcing and delivering equipment and through life support services for the Royal Navy, the Army, and the Royal Air Force. That's everything from boots on feet to helicopters on aircraft carriers and tracks on tanks. It's a £10bn (US$12bn) a year operation handled by a combination of military personnel, civil servants and contractors, and a highly specialised part of the Ministry of Defence (MOD).
Supporting military activity and procuring everything from food to fighter jets, is a logistical challenge at the best of times – made monumental during times of war in Europe.
Roger West is the Logistics and Support Director at DE&S and even though he has 40 years of experience to draw on, it's fair to say these are unprecedented times – when supply chain resilience is paramount.
"It's absolutely fundamental that we have resilience in our supply chain," says West. "We've been tested in recent years by COVID-19, by Evergiven, and now in the support of Ukraine. We are giving considerable thought to how we need to re-calibrate our supply chains to give us the resilience that we need because we can't afford to go out half-cocked into a demanding environment where people's lives are at risk."
The scale of the operation is evident, yet hard to fully comprehend, on our visit to MOD Donnington, near Telford in the UK – a former base with a rich history dating back to 1936. During the Second World War, it was recognised as a potential 'safe' site for storing ordnance and other equipment rather than Woolwich in London.
The site grew over the decades and remains the main logistics hub (alongside Bicester) for the MOD, bolstered by a landmark contract award in 2015 that saw the development of its £90m state-of-the-art Defence Fulfilment Centre (DFC). The impressive DFC was constructed by McLaren Construction under contract by Kuehne + Nagel, and covers the area of around 10 football pitches. Importantly for West, it brings the DE&S operations bang up to date with industry best practice.
Partnerships are key to DE&S supply chain success
The MOD signed a 13-year logistics contract with Leidos in 2015 which, in addition to building the DFC, sees them both run and improve procurement of commodities, stock control, storage and distribution. The contract breadth is much broader than many realise says West and is delivering a significant increase in IT capability, global reach, resilience, and performance over the old set up, with the contract expected to deliver benefits of £300m.
"We're absolutely dependent on our key partnerships, whether it's in the acquisition or support environment," says West. "As you know, we don't build military equipment. We do that through the supply chain. So, the way we manage and develop those relationships, is absolutely critical. One of our key partnerships is with Team Leidos, and their team members TVS Supply Chain Solutions, Agility, and Kuehne + Nagel. They are all fundamental to what we do."
Babcock is another key partner with a high-visibility presence at Donnington – not least because they are handling the repair and maintenance of some of the larger items of equipment passing through the site. From tanks to armoured personnel carriers and supply trucks, Babcock's crack mechanics and technicians strip down these machines often to the bare metal and build them back better, ready for the theatre of operations.
"We run the contract which we outsourced to Leidos which is essentially all of our storage and distribution activities across the UK," but it's much more than just that, says West, noting that it is about delivering an uplift in capability to defence with a laser like focus on meeting the needs of the war-fighter. We have to remember that there are brave men and women working in often remote, hostile, and harsh environments who depend on what we do to get through the day.
"Team Leidos provide our commodity procurement, so they buy all our uniforms, medical supplies, general supplies. They store all of our non-explosive stock. So, at the moment that's about £6.5bn pounds worth. They also move all of our stuff within the UK, including explosives. It's a massive undertaking. I think it was probably the largest outsourcing in Europe at that time."
That huge logistics contract with Leidos is just one aspect of West's responsibility. A recent addition to his team's remit is managing storage at Faslane naval base in Scotland and in Portsmouth. That brings their storage responsibilities to more than £8bn worth of stock and provides the means to ensure stores are located and supplied in the most efficient and effective way when combined with the Team Leidos contract.
Another team handles the British Forces post office, while another is responsible for fuel acquisition and packed fuel.
"We also have the Defence Equipment Sales Authority (DESA), which basically sells all the things that the MOD no longer requires," explains West. "Be that C-130 aircraft [Hercules], ships, armoured vehicles, sleeping bags – all of that can be sold on a government-to-government basis. We sold HMS Ocean a few years ago to the Brazilians, for example."
West outlines the various teams and departments that account for the 13,000 talented civil servants, military personal and private contractors under the DE&S umbrella, spread across more than 150 locations globally. Donnington is one of the key UK sites that provide some 1300 acres of storage facilities in the UK alone.
"There's always an awful lot of interesting things going on," says West. "We've got the largest privately owned railway in the UK – if you went to Bicester, there are miles of sidings and track built as part of its crucial role in WW2. It handled 292,000 wagons in one year as part of the D-Day preparations.
"And then we've got a project that we are just in the process of rolling out, which is another new building for storage which is going to be in Longtown, near Carlisle. That's going to be about the size of 12 football pitches and will again help us provide storage for a lot of our big, lumpy things such as ship propeller shafts, engines and gun barrels. We call it block storage, and it will also help us de-risk some of our storage at other sites."
Bringing defence logistics into the 21st century
Remember the end scene from Raiders Of The Lost Ark when a wooden crate is wheeled into a seemingly endless warehouse? The storage facilities we saw at Donnington had that same sense of awe-inspiring, bewildering scale, but were a masterclass in automation. And some of these buildings were fitted out more than 30 years ago, with what must have been cutting-edge warehousing racks and robots at that time.
"Donnington was a key site for the Second World War. A lot of the investment that took place happened around that time, so there are some fairly mature buildings on site and there are other buildings which were developed in the 70s and 80s. What you will have seen though, is a more recent investment in the DFC," says West. "The Defence Fulfilment Centre marks a fundamental change in the philosophy of Defence – from storing things to being able to fulfil demands and therefore being able to understand what those demands are and then making sure we're responsive to them."
"We conduct around 90% of our fulfilment through that single building, whereas previously we would have been picking stores from right across all of our sites. This wasn't very efficient, and we've been able to reduce our estate footprint by about a third through this new approach. We've also been able to reduce our manning quite considerably whilst improving flexibility and responsiveness It's not fully automated, because that's not appropriate for our business, but it takes us a long way down the road of being very efficient, but also having the agility to deliver when needed."
As soon as you see a site of such scale and buildings of cathedral magnitude, thoughts inevitably turn to sustainability. We are glad to report that on our site visit, there was as much wildlife on display as warcraft. On our tour we saw everything from rabbits to squirrels and (less expected) a green woodpecker.
"Sustainability is really important to us, and as you've seen on the sites here, we are blessed with very green environments and wonderful wildlife diversity as well as having a lot of buildings," says West. "On some sites we've been developing bee meadows, others are Sites of Special Scientific Interest (SSSI), and we certainly make sure we look after the wildlife on sites and try and create an environment that is both pleasant, functional and sustainable.
"One of the things I'm pushing in our new build project at Longtown is that we will install solar PV on the roof. What I'm aiming for is that we generate sufficient electricity for that building and, hopefully, for the whole site. I think that's an area where we should do much more across all our sites.
Looking to the future, West believes firmly in having a vision and a goal and principles that his team should deliver through the supply chain, but it has to be real. He says you have to make it practical, setting achievable clearly-defined goals along the journey.
"One of the things I think has been my stock-in-trade throughout my career is about getting stuff done," says West. "I'm not really interested in a vision and strategy for its own sake. I'm not very interested in lots of PowerPoint or long, written reports, or talking about things. I want to get on and do things. We do run the risk sometimes of spending too much time talking about what to do and then find the moment or opportunity has passed. I realised from my retail days that even if we do something and it turns out not to be quite right, you can always stop doing it and then do something else. Better to do that, in my book, than sit contemplating and never actually changing anything at all.
In terms of demonstrable action with real results, West says his first goal is completion of the new storage facility at Longtown. In parallel, he wants to bring Project Lifecycle Management (PLM) into equipment support. West says DE&S has invested in its business systems, but it's the turn of through life support to get some attention which will provide foundations for many of the new things emerging such as autonomous last mile logistics, digital twins, and the role that 3D printing could play in the Defence environment.
"We really need to be looking at how we bring PLM into play so that we're delivering the backbone of support systems that allows our people to be much more effective, much more controlled, and much more consistently repeatable in the way we deliver support," says West.
West joined DE&S on an 11-month contract in 2013 and is still there, nearly 10 years later. So, is that a sign of unfinished business, or simply relishing the challenge?
"This has been the best job in my career so far," says West. "It has been a huge amount of fun and an opportunity to get on and do things. I found that working for NHS Supply Chain gave me a strong sense of service to the state and this role has built on that. I've also really enjoyed working with a brilliant group of people over the years and have loved to see people flourish and develop. It's probably time to hand the reigns onto someone new to continue the journey, and I'll be thinking about what I should be doing next.''
"What we've done on the Defence Fulfilment Centre, what we're doing in Support Improvement and even our new facility at Longtown, are all part of that journey about to modernise the way defence delivers logistics and support. I'd like to think that we are already more advanced in terms of that logistics capability than perhaps any other country, which is a good feeling, but I'm realistic and know that there's still much more we can do."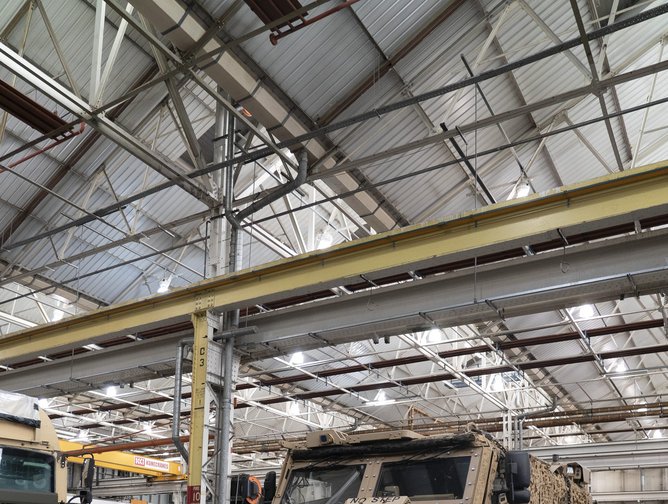 DE&S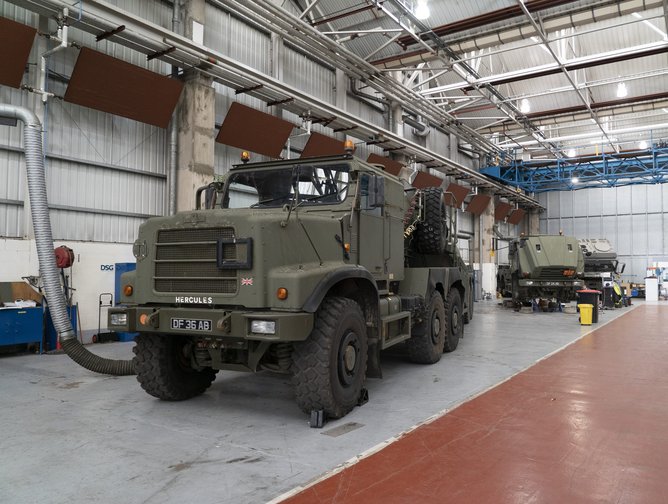 DE&S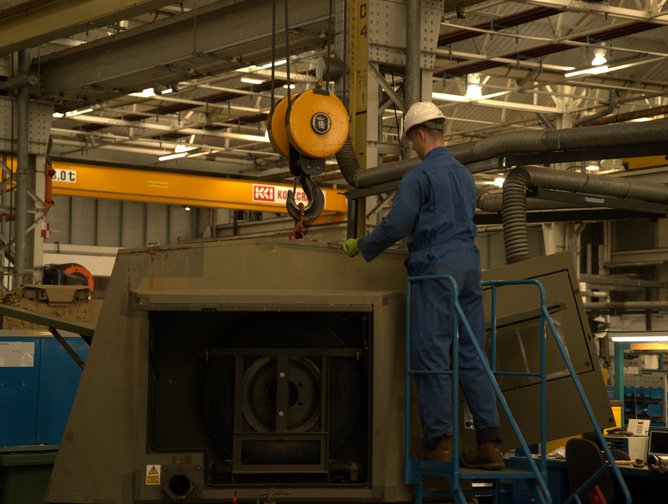 DE&S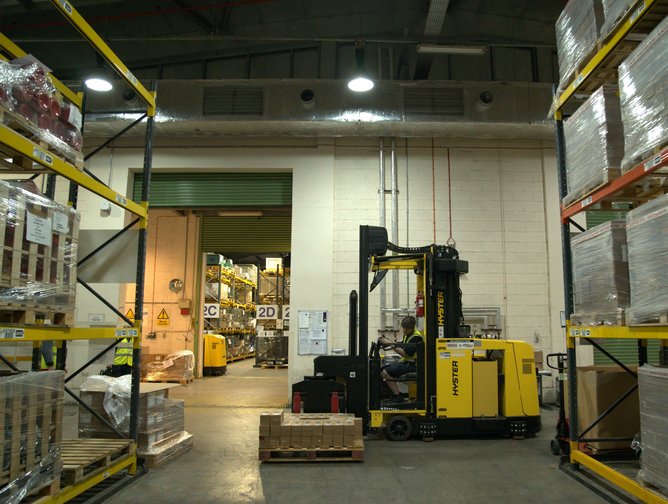 DE&S