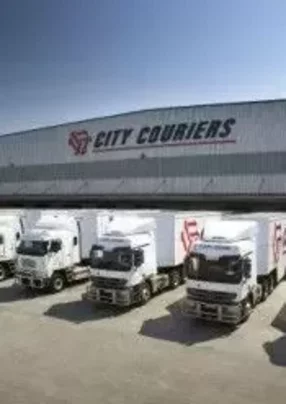 City Couriers deliver a dependable service...
Freight specialist City Couriers is accelerating towards a greater market share within South Africa, following investments in new streamlining technology and a move to more sustainable processes in its day-to-day operations.
At the advent of its 25th anniversary, the company has begun testing environmentally friendly LPG Gas to fuel its long-haul trucks, in addition to investing in detachable trucks to ensure faster load turnaround.
Ryan Gaines, Managing Director at City Couriers, said: "We like to innovate; we tested some LPG gas vehicles to see how they can improve fuel consumption on the transport side. Within the depot, we are constantly looking at different ways of processing cargo more efficiently, so we invested in rigid truck bodies that are detachable and we load it full of stock during the day when the rest of the vehicles are out; then they can come back and collect to deliver in the evening or the next day without being inefficient in the warehouse because we can load at the point of receipt."
With a yearly investment expenditure in excess of R150 million per annum, the company is striving to further improve its environmental impact with new green buildings, beginning with the construction of a water recycling facility at its truck wash.
"We're currently putting in a wash bay in Johannesburg which will recycle 80 percent of our water consumption, which has been a R2 million investment. We've considered an approach to green buildings, we're busy with a few building projects, so we've just spoken to a few green consultants in terms of their layout etc," said Gaines.
The company has grown substantially over the past two decades, boasting around 20 percent compound annual growth in the past five years, following a strategic acquisition, in addition to a number of timely investments in IT systems, new vehicles and new technology, along with a comprehensive driver management programme.
"On the vehicle side we typically run on a significantly better consumption than the rest of the market through very active management; so we try and drive a reduction of kilometres to improve efficiency and a reduction in consumption through our process management and that's one of our major focuses in terms of the environment," said Gaines.
A dependable service
According to Gaines, the company's operational advantage lies in its unique approach to customer service, which has afforded the company a reputation for a personal and dependable offering.
"We have a very entrepreneurial approach and a long-standing operational proficiency which allows us the capability to be flexible whilst at the same time having the capability to excel in performance. More importantly we are very customer focused; we spend a lot of time with our customers and understand their needs. While we are a large player in the industry, we are still mid-market so consequently can give our large customers the attention that they wouldn't get from a larger service provider," he said.
Offering a unique solution for every customer, City Couriers create a bespoke service following a meeting about each client's requirements. From there, each customer will be allocated resources including a personal representative that is available to telephone, and executive meetings to ensure that any improvements the customer suggests are promptly acted upon.
The company are also renowned for their impressive reputation for risk management, following the driver strike in South Africa last year, when the company managed to maintain existing service levels when the rest of the industry ground to a halt.
"In addition to our entrepreneurial approach, flexible supply chain solutions, and operational excellence, we also pride ourselves on our competence and capabilities in very difficult circumstances and our ability to provide unusual service when needed.
"We've got a culture of getting things done, so we have good partners, we've got long-standing relationships with service providers and we've got dedicated staff. In terms of contingency plans and the execution of contingency plans, we've got the edge, because of that entrepreneurial spirit – we like to get things done," explained Gaines.
Established partners
One element that allows City Couriers to remain flexible is its close relationships with local suppliers and industry. Through building long-term subcontractor relationships with smaller, previously disadvantaged freight providers in the area, the company support enterprise development by outsourcing work to smaller service providers, provided they can meet the company's 10 stringent risk management requirements.
With services extending beyond South Africa into Namibia, Botswana, Swaziland and Mozambique, the company employ more than 2,500 staff across 19 depots, and invest in continuous skills development and training to ensure each individual develops their professional skills.
"We currently employ more than 2,500 staff nationwide, on a permanent and contractual basis, and are Seta accredited. We have a range of skills development and training programmes overseen by our national training manager such as computer literacy, management development programmes ranging from training modules in logistics to training via professional consultants, plus HIV education programmes.
"For long distance driver training we've partnered with several large OEMs and we have a very detailed intervention that we do as we replace our trucks so they are up to date with all the new technology. On the short distance aspect, in terms of driver training we've got in-house training personnel who are experienced drivers and they will mentor the individual drivers.  There is a material benefit to us in terms of fuel consumption and efficiency of the vehicle," explained Gaines.
Through investing resources into their staff, City Couriers is able to promote internally first, following a career trajectory for developed by the company in collaboration with individual staff members. By continually driving skills improvement, the company ensures that people are put in the right positions, roles that are attractive to them and that they are effective in.
Social responsibility
Following its impressive growth over the past two decades, it is an important core value of the company to share their prosperity with the community. City Couriers donate a portion of net profit after tax to various charitable initiatives, in addition to providing staff health care through regular HIV clinic visits, workshops and wellness programs which have been most effective in both prevention and treatment of the illness. 
Major community projects that City Couriers offers ongoing support to are the HIV Foundation and the Abalindi Welfare Society (which comprises of an old aged home, frail care centre, hospice, crèche and children's home).
This year, City Couriers also announced that it will sponsor the university education of an orphaned teenager who was raised in the care of the welfare society.
A bright future
According to Gaines, the company is in for a bright future, with a number of further investments and growth strategies in the pipeline.
"We run a variety of operational improvement projects all of the time, a lot of which are technology driven. We have elements of lean and six sigma, we also have green initiatives and we've got a strategy around process management which we drive very hard.
"There is a trend of access into Africa and access to e-commerce, so we have an interest in these areas. We've had phenomenal growth in the past 20 years- even though these are bumpy economic times we find that our value position is excellent in the market and we see ourselves growing at a significant rate, offering a differentiated service in Africa."