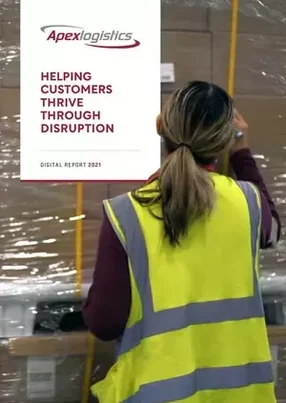 Apex Logistics: Helping Customers Thrive Through Disruption
Fueled by passion, enriched by experience and empowered by technology, Apex Logistics is helping customers thrive through disruption...
Fueled by passion. Enriched by experience. Empowered by technology.
When Apex says they deliver passion, they mean it. Apex Logistics' rich corporate culture takes a forward-thinking mindset that launches customer commitment to a whole new level where supply chain resilience and risk management aren't just buzzwords but are ingrained in everything they do, from the ground to the cloud.
At its core, Apex is rooted in laser-focused risk management, an unrelenting commitment to quality, and an aggressively proactive customer-first approach. Providing an unmatched customer experience, they find themselves strategically placed to help customers through the repercussions of the global pandemic so they can not just survive, but thrive, because managing disruption is what Apex does best.
What's unique about Apex is the thoroughness in which they approach every task. From the designing of their incredibly powerful platform that lends insightful supply chain visibility with actionable data, down to their extensible knowledge on the safe loading practices that safeguard client shipments, no stone is left unturned in their efforts to keep their clients ahead of the curve so they can thrive even through disruption.
Sean M. Francisco, Chief Operating Officer for the Americas at Apex, speaks to their unique stance in the market, "Most industry players are generally categorised to be either a traditional organisation, a startup or a technology-based company. What I love about Apex is that we're all three. It started off as a traditional organisation delivering critical marketplace services. But we're still a fairly young company, so that allows us to pivot and adopt newer technology to advance the internal and external supply chain experience. The ability to have nimble and interconnected networks of data, people, and processes has accelerated our growth."
"Where Apex is unique is it has the size, the infrastructure, and the buying power to be able to really deliver value from a market competitive position. And it has the technology to help customers push and pull inventory in response to real-time supply chain needs."
Fueled by passion
"More than a company culture, a global movement."
It's often said but rarely lived up to. At Apex, however, passion really is more than a motto; it's in everything they do. It's reflected in their attention to details, their "out-of-the-box" thinking, and their customer-first approach. Apex's value-led decision making takes their employees well-being to heart and creates a culture that breeds passion and nurtures employees, so they remain driven and committed to delivering unparalleled quality, exceptional customer service, and growth.
Every client has unique needs and challenges, and Apex stands at the ready with a global community of experts who are always looking for better ways to do things. 
Enriched by experience
Decades of industry experience have afforded Apex intricate knowledge of the risks that lay within supply chain logistics and the mitigation tactics and business model strategies that may be used to ward against them.
Leveraging these tactics and fueled by their company culture of always looking for better ways to do things, Apex values every experience as a learning experience that better informs their tomorrows.
Empowered by technology
Francisco explains, "We have a mindset that we will use technology to enable customer resiliency and flexibility in the face of constant market risk and change. The solutions born out of that mindset, such as being able to easily divert orders in process, enable decision making throughout the order lifecycle."
This focus on leveraging technology to give customers a vantage point over their end-to-end supply chain led to the creation of a game-changing order management system. Apex's unrelenting attention to detail is reflected in their platform's capabilities, providing their customers with true end-to-end real-time visibility, exception alerts, revised eta's and tracking right down to item level detail. It's risk mitigation at its best.
Apex's holistic view over the entirety of their supply chain allows customers to save time while shifting from reactive to proactive actions that lessen the impacts of disruptions on their organisation.
"So we're really excited about it, and we've had great collaboration with the world's largest and most influential Fortune 500 companies to help us on this journey. I don't see a limit right now. We will continue to grow with individual, small, medium and large size customers and the industry."
Stepping up to the COVID challenge
"The pandemic has impacted every aspect of our lives, and the fight against the Coronavirus continues. At Apex, we started by creating six working guidelines to help minimise the spread and help ensure a healthy and safe working environment for our employees, telecommuting, office distancing, PPE supplies for employees, travel suspension and transportation options for employees that depended on public transportation. We then looked to experts for guidance in each of those areas. 
"Covid was unlike any disruptions we had faced before, unlike a labour disruption at one particular port or a volcanic eruption in a particular region. This impact was global. As businesses had to pause and determine how to best move forward, we felt that we played a vital role in the supply chain. So, as trusted partners, we worked closely with clients every step of the way to help determine the best steps forward."
"What the Coronavirus has done is really elevate our industry, bringing to light that we don't just move goods and materials through commerce. We are a vital part of the world's lifeline."
"People started paying attention to sectors that historically have been paid little mind. All of a sudden, the impacts of supply chain are more visible. People want to gain an understanding of the supply chains of perishable food, toilet paper, PPE and of course, the vaccine."
"People are no longer just focused on airlines and the ocean liners, which have done a tremendous job under these conditions, but the entire chain. This includes infrastructure and ground handling, trucking companies and delivery agents. Companies are now working in a much more collaborative manner because, at the end of the day, everyone is fighting the same thing."
Tactical risk management
Apex has built risk management into their business model, acquiring the assets that allow them to take control and mitigate the risks that most threaten the safe movement of their customer's goods. 
Francisco on Apex's risk management efforts, "When you look at the entire logistics chain from a risk management viewpoint, you must look for potential threats such as loss, damage, or theft, and even weather patterns using statistics to identify higher probability locations. You must ensure you have suitable security processes in place at every location. A robust vetting process for service providers further ensures that you limit opportunities and keep shipments safe.
"In many of the larger airports, where you not only have higher activity of cargo, but you also have a higher probability of theft, we've taken control over two key elements. One is ground handling work. With this, we build up and then break down the airline's unit load devices. We prefer to operate our own ground handling services or container freight station services. Then we transport those unit load devices from the airport to our facility. So we remain in control from one secured area to the other.
"Wherever feasible, we operate our own trucks, as to not contract out a critical step. Again, we want to control the environment that a package is moving in. It's these types of tactical movements that allow us to minimise risk within the logistics chain.
"We also directly engage with our clients to ensure a full understanding of how they are moving their goods or materials throughout the supply chain. We want to know how we can partner to ensure that we eliminate any grey steps within the process and ensure that we always have visibility and control over documentation and the physical movement of the goods."
Apex takes a dynamic approach to all that they do, evolving with technology and quickly adapting to the ever-changing landscape of today's highly interconnected global supply chains. Their expansive global presence and deep industry involvement as a member of the World Cargo Alliance allows them to provide valuable insights and thought leadership, helping to keep their customers ahead of the curve. Offering an uncompromising customer experience, relentless precision and attention to detail, Apex focuses on quality control so they can deliver on-time, safely and securely.
A word of appreciation goes out to all staff, clients and business partners who have done a tremendous job of assisting Apex and it's customers to not only survive but to thrive through all that has come their way.