Tackling the logistics labour issue is no small job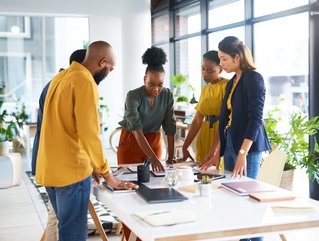 Tackling the logistics labour issue is no small job
Low pay, stress and a return to office working has left logistics struggling for labour, but technology and training are helping to address the problem
The pandemic has presented logistics with a conveyor belt of seismic challenges over the past three years. One of the lesser talked about issues has been the shift away from working from home (WFH) and the return of people to the office.
It is no coincidence this has prompted people to seek new jobs and careers in their millions, including across supply chain functions. What doesn't help is that supply chain roles come with huge stress levels, given the amount of ongoing disruption. Of course, some supply chain jobs, such as driving and warehouse work, cannot be done from home, yet these areas have been even harder hit by labour issues.
Take warehouses. At the lower end of the logistics skills spectrum – warehouse handlers, for example – many see their role as a short-term means to an end. The work is tough, hours are long, and the pay isn't great so, unsurprisingly many workers are moving to industries that offer higher wages or more-appealing work environments.
Adrian Preston, Head of Supply Chain Content at Skill Dynamics – a supply chain and procurement training company – says retention is not just a warehouse issue, but is affecting supply chain roles generally.
"It's a particular issue among junior professionals," he says. "Our research shows over a quarter of professionals (27%) intend to leave their current role within two years. This should be a huge cause for concern for organisations, because they'll be losing people who have amassed critical skills and an understanding of the business."
Preston adds that other causes of employee churn include increased workload (62%), limited progression opportunities (47%), and lack of respect for the function (34%). On top of this, he says many junior supply chain professionals are ill-equipped for the complexity of their roles: "There's a high need for structured, on-the-job training due to a lack of formal qualification options. Most say they'd like more training to help them meet job requirements."
Preston continues: "The data points to a supply chain under stress. Professionals are having to grapple with strategic problems early in their careers, and added to this they don't feel like their contribution is being fully recognised, so they leave.
He says that high employee churn increases workloads for those left behind and that this prompts even more people to leave, meaning organisations "find themselves in a perpetual skills-loss cycle".
So what does Preston think can be done about this?
"Recruitment is certainly difficult for supply chain organisations right now," he says, 'but retention is perhaps the greater issue. Most supply chain professionals are concerned about the consequences of high employee churn. They say employee retention in their function has decreased over the past three years. This is a huge cause for concern for organisations, as they're losing people who have amassed critical skills and an understanding of the business."
Preston says organisations can encourage people to stay through increased salaries and other incentives but warns that these tend to be short-term solutions, as they don't build long-term loyalty: "A far better approach is to address the drivers of churn. These are increased workload and limited career opportunities. Recruitment is an issue, so it's unlikely organisations will be able to bring in a load of new people, but they can equip existing employees to deal better with the challenges of their roles through training. This also helps demonstrate the organisation cares about its people, and their long-term career progression."
Supply chain companies are also turning to technology to not only ease labour shortages but also improve staff retention levels. Sam Slater, senior VP of global operations at Crane Worldwide Logistics, points out that many logistics workers see technology as a means for their employer to compete in a tough market, and that this gives them a sense of security.
"People want to be assured their organisation is positioned to compete," he says. "They see technology as a key component of that competitiveness. In fleet management, for example, automation has reduced wait times and the matching of loads. The more the wheel turns, the more money people make – and this contributes significantly to staff retention."
When it comes to automation, Slater believes the key to success is always leadership: "The worst thing is to make the process more complex than necessary. This will always be an industry built and run by people. Technology does not replace leadership."
Slater offers examples of areas in which Crane itself has achieved a synergy between people and tech. He says the company has an automated online learning management system that can be used for personal development plans, as well as a global reporting system that can be accessed by any Crane employee, at any time, from their smartphone.
In terms of the most important skills in today's supply chain marketplace, Adrian Preston says these are supply planning, supply chain analytics and supply chain strategy.
"Senior supply chain professionals tell us these are the top three skill sets that they're seeking in new recruits," says Preston. "Supply chain leaders are looking for people able to navigate an uncertain landscape. They want people able to analyse relevant data to understand where the next supply shock might come from.
"They also want people who are able to adapt and spin-up short-term plans to overcome unforeseen disruptions, as well as longer-term strategies."